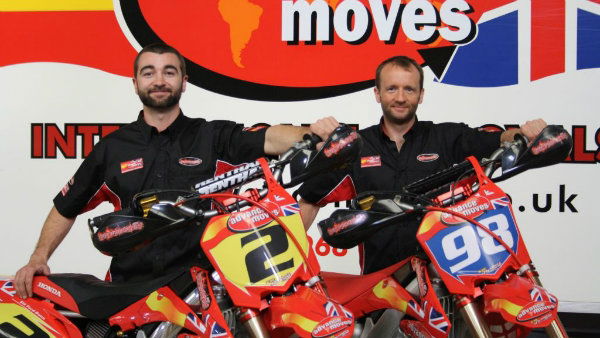 After the summer break, the Supermoto racing brothers have had a hectic few weeks with both the Catalan and Spanish championship races in quick succession.
First stop was Mora d'ebre in Catalunya for the 5th round of the Catalan championship where Anthony Ford-Dunn finished third in both the open class races to gain third position overall and second position in the Catalan championship with two rounds still to go.
Meanwhile his older brother Mat Ford-Dunn, competing in the SM30 class, for riders over 30 years old, had mixed fortunes. After winning the first of his two races, Mat was looking good to do the same in the second race when he missed a gear before a jump that flicked his rear wheel up and sent him over the handlebars. Mat was knocked unconscious in the crash and was out for about four minutes, before remounting to finish seventh. The seventh place, combined with his first in race one, was good enough to give him thirrd overall and he still made the rostrum despite a headache and a severe concussion.
The brothers were then in action the following weekend at Alcarras, near Llieda, for the fourth round of the Spanish championship where the heavens opened and the racing was held in torrential rain. Anthony struggled to get his bike set up for the wet conditions but still managed 6th position in both of his Open class Spanish championship races. Anthony is currently in 5th position in the championship standings with only nine points between himself and the third placed rider, so he has it all to play for in the final Spanish championship round at Albaida circuit near Alcoy, Alicante.
Older brother Mat had a great couple of rides in SM30, to win both races and end the day on level points with Joan Lopez as they enter the final round.
The brothers now have a busy few weeks preparing for the final races of the season with the next Catalan round this weekend, followed by the title deciding, final round of the Spanish championships at Albaida this Sunday (October 28). With the pressure on it will be interesting to see how they both fare and the teams main sponsors, Advance moves International Removals and Stratton Motorsports will welcome anyone wishing to attend the races and support their riders to the dramatic finale of the year.