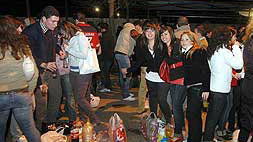 THE majority of Spanish parents know that their adolescent children drink alcohol… but do nothing to stop them. In contrast, another 44 per cent are unaware of what goes on when their offspring go out with friends.
On average, Spanish teenagers have their first drink when they are 13.7 years old, according the Youth and Alcohol survey by the Pfizer Foundation. Again, some parents remain in the dark because most believe their sons and daughters began at 15.
One in every 10 adolescents aged between12 and 18 drinks once a week, while one-third said they drink once a month. This rose to 22.8 per cent and 61.7 per cent for the over-16s.
They like spirits and liqueurs, 55.2 per cent of teenagers told Pfizer but their parents thought this was the choice of only 36.8 per cent. A further 24.1 per cent of parents believed their children do not buy drinks, although only 12.7 per cent never do so. 
Just over 56 per cent of young people started drinking with friends, they said, and 37.1 per cent explained that they wanted "to see what it was like." At an outdoor "botellon" where large groups of young people meet up at the weekend or national holidays, 45.3 per cent replied "very often" or "often" when asked if they drank too much.