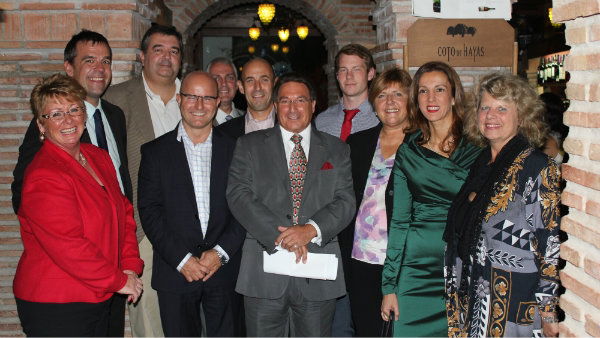 MORE than 100 expats and locals embarked on a journey of the senses at last night's (Thursday October 18) wine tasting event at the Wine Museum in Mijas Village.
It was organized by the British Chamber of Commerce (BCC) in Spain in collaboration with the Mijas Town Hall Foreigner's Department.
Raquel Perez from the BCC thanked Mijas Town Hall "for all the support" they have given them.
"We are very proud that more than 100 people, mostly foreign residents chose to share this evening with us," said deputy mayor Mario Bravo."We hold wine tasting events a few times a year and feel that Mijas is a great place to hold these types of events year round."
Among the many guests were Clayton Hopley and Juan Fernandez from Lloyds Bank International, Miguel Osuna from Perez Legal Group and Sarah Hawes from Cambridge 800.
Attendees sampled three wines specially selected by head sommelier Aurelio Molino who recently won first prize in a wine competition, and gourmet tapas that accompanied each wine.
First up was a smooth tasting young and light Moscatel white wine from the Moclinejo Mountains of Malaga.'El lagar de Cabrera' (2011) is a pale dry and fruity wine with aromas of white fruit including apples, pear and lime.
This wine is a great accompaniment to starters like the traditional Spanish 'Orange and Cod Salad', according to Aurelio.
A full bodied maroon red wine from Ronda, aged for 18 months in oak barrels, was the second wine sampled.'Los Frontones' (2008) is created from four grape varieties including C. Franc and Sauvignon, Tempranillo and Syrah.
"It would pair well with a stew", said Aurelio.
The third wine on the list was 'Jarel Dulce', a sweet and creamy wine from Competa.It has aromas of lemon, nectarine and jasmine and is golden in colour with green reflects.
"It is naturally sweet; all the alcohol and sugar is straight from the grape," said Aurelio."It would pair well with Foi Gras or almonds."
It is this kind of pairing that the Wine Museum can offer.Since the Wine Museum was opened by Julian San Juan seven years ago it has been a place where not only can people can come to view the old labels but taste and buy wine as well as hold events.
Each month Aurelio travels to find new wines, which he brings back. In the six years he has worked with the Wine Museum he has been expanding his knowledge with studies in the UK and France.
Two weeks ago he won first prize at the Axpilicueta Winery where he competed with 19 others to create a unique wine."We had to mix the wine by identifying the grape through taste and smell," said Aurelio.
Meanwhile, the British Chamber of Commerce aims to put on more interesting events, according to Derek Langley, Regional Vice-President Andalucia.Their next event is Speed Networking which will take place at the Marbella Golf and Country Club on Tuesday November 20.
---
Article by Nicole Hallett
---