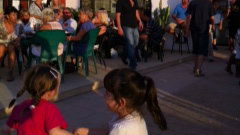 MORE THAN €675 was raised in a Mud Relief event at Victors Bar at the Buganvillas in aid of flood victims.
AKA Entertainment, Keith Knight, Kaye Francis , Rob Baumshelle, Norman Perry, Jeff Green and Kathleen Collings performed free at the event, organised by Victor.
Iceland provided hot dogs, and a raffle included prizes donated by Supermercado Buganvillas, Victors Bar, Bar La Parata, Zacs fish and chips, Garden Works and Hair by Stella, who was herself a disaster victim.
Richard of Spectrum Radio was praised for up-do-date reporting on the disaster, and the recent fires, and a minute´s silence was respected in memory of Diana Dudas and all who lost their lives.