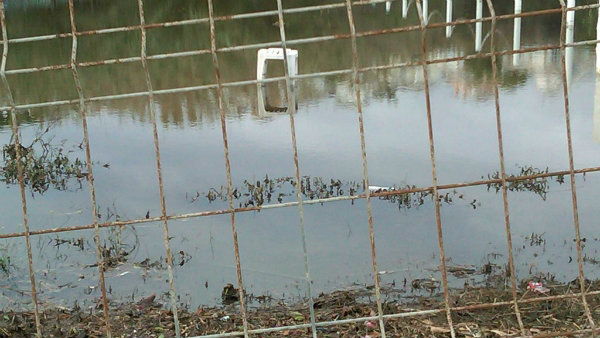 A TOTAL of €12 million has been set aside by the Junta de Andalucia to repair Almeria roads damaged in last month´s storms.
Additionally the Junta has asked the Spanish Government to list aid for flood victims in laws regulating emergency help after natural catastrophes.
The Junta Councillor for Presidency and Equality Susana Diaz, during a meeting with mayors from Almeria towns affected by the storms, said "we are not only helping restore infrastructures, but also cooperating with damage-evaluation offices in affected towns.
However, Almeria Government Vice President  Javier Garcia voiced concern that after the storms, traffic diversions left Pulpi residents a 90 minute drive from the nearest hospital in Huercal Overa.
Meanwhile, work on repairing flood damage, as well as on-going help for the victims, continues throughout Almeria.
In Vera the town hall is seeking permission to enter several homes affected by the September 28 floods in the Pueblo Laguna urbanisation as they do not appear to have been opened by owners, and they fear dead animals may be among debris inside.
The Almeria  city coastline has now been mainly cleared of debris, though this was especially hard in Retamar-El Toyo beaches, where "islands" of canes floated in the sea. 
Volunteers also helped in cleaning Cabo de Gata-Nijar Natural Park.
A final decision is still be to taken over work needed on a collapsed bridge in Mojacar.
Local Mayoress Rosmari Cano visited Mojacar Playa, La Parata together with Junta de Andalucia delegates to assess damage to the bridge which is near apartments.
Raising the rambla and reinforcing the side were viewed as temporary measures, with the Mayoress stressing that if the bridge is not rebuilt, careful planning would be required to avoid a waste of money in future flooding.
Such a decision lies with the Junta de Andalucia and not the Town Hall, she added.
Meanwhile  PSOE Almeria Secretary General Jose Luis Sanchez has suggested to the Junta that people affected by the storms be hired to help repair infrastructural damage.
He also begged all political parties to avoid political friction "and focus efforts in helping citizens," Sanchez said.
Sanchez also pointed out that PSOE mayors from Bedar, Los Gallardos and Lubrin were not invited by the Government Deputy Delegate Office in Almeria, during Queen Sofia's visit. 
The Almeria School of Industrial Engineers (COITIAL) has offered help to flood victims through the Junta´s Deputy Office in Almeria. Those interested can call COITIAL on 950 224 130.
This Saturday a charity volleyball match will be played at the Blas Infante Sports auditorium in Vera between Unicaja Almeria and  CV Zaragoza, with proceeds in aid of flood victims.