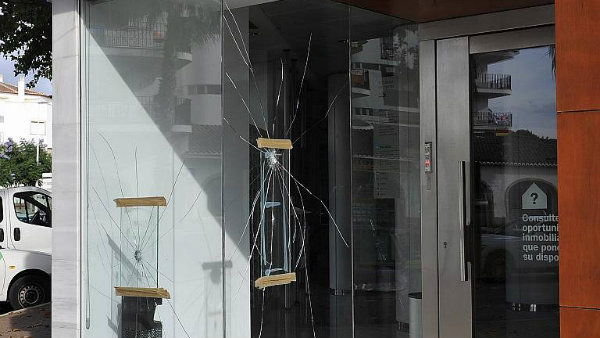 MYSTERY surrounds another vandalism attack on a Javea bank.
The branch of Sabadell Sol Bank was targeted and suffered damage in what appeared to be an attack with a hammer, damaging all five shop front windows and a cash dispenser unit
The bank was closed at the time and local police say they have no witnesses. The attack left indentations and cracks in the reinforced glass, although it is unlikely it was a serious attempt at a break-in.
However, this is not the first time the bank has been targeted and fears are rife that a local vendetta may have been waged.
In September, along with several other business premises in the town, Sabadell Sol Bank had their windows damaged by graffiti etched in acid. The message in all cases was a central graphic resembling the number 25 followed by a series of unintelligible words.
Sources from Banco Sabadell head office said they could not speculate whether this latest attack is linked in any way to earlier acts of what appeared to be aggressive vandalism. This was confirmed by Javea police who said that as the matter was the subject of an ongoing enquiry, they were unable to answer any further questions, but requested EWN help in contacting anyone who either witnessed, or has information relating to either incident, to contact them on: 96 579 0081.
Earlier this year, a mini-supermarket close to Sabadell Sol Bank, was inexplicably gutted by an overnight fire. There were no witnesses and the shop owner preferred not to comment.
---
Article by Benny Davis
---