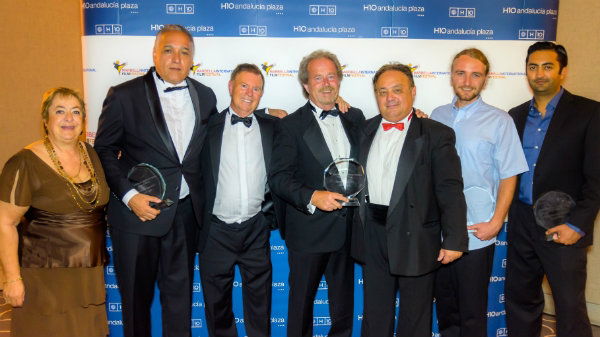 THE Marbella Film Festival, sponsored by the Euro Weekly News, finished with a bang on Sunday with a gala awards dinner at the H10 Andalucia Plaza Hotel in Puerto Banus.
Independent filmmakers from around the world gathered over the course of five days to show off their talent and compete to win the award for the best in their category.
The winner of Best Feature Film was 'Dorfman', a romantic comedy produced by Leonard Hill, directed by Brad Leong and written by Wendy Kout.
The lead actress was Sara Rue with Elliott Gould, Johan Urb and Scott Wilson in supporting roles.
Other nominees in this category included the mystic family drama 'Dreams Awake' by American director Jerry Alden Deal and the French/Bulgarian romantic film 'The Foreigner' directed by Niki Lliev.
The winner of Best Documentary was 'Love and Politics', an American production directed by Azad Jafarian about Judith Malina who established The Living Theatre in 1947 with her husband Julian Beck.
Other nominees in the documentary category included Japanese production Inori Prayer on how human thoughts and actions influence genes, and Positively False from the UK which traces the challenges that HIV is the cause of AIDS.
The winner of Best Animation was Vengeance + Vengeance, which was made in Singapore by University Students and directed by Mark Chavez. It is about a futuristic world where scientific achievement has merged the boundaries between man and weapon and one woman's journey to fight for a solution.
Other nominees included British production Fantoons Chasing the Edge about a twisted U2 fan, and Ida's Journey from Germany about eight-year-old Ida who journeys into a washing machine and finds out where socks disappear to.
The winner of Best Shorts was German production 'Memories', with Spanish 'Ethereal' and British 'Invisible' as the other two nominees in this category.
'Ink', a Russian production was the winner of Best Shorter Shorts.
'For the Children' by Brit Steve Cline, but produced in the Netherlands where he currently lives, was one of the other nominees, together with 'The Ticket', from Brazil.
The beauty of independent films are their "singularity of voice", according to Leonard Hill, producer of Dorfman, who lives in LA.
On larger productions created by studios a host of different people "are invited to the party".
"The script becomes negotiated by committee rather than a team with one writer creating a uniformity of view," which is achieved with indi films.
"Independent films are like an organic product compared to fast food productions, which is why some actors that can command higher salaries on the bigger movies are willing to work for lower pay on independent films," he added.
Wendy Kout, the writer of 'Dorfman' had tried for years to get an original film made in the studio system.
She was "tired of committees of executives, the politics of their regime changes, and endless fear-based notes, I said goodbye to that dream. Then I ran into Producer Leonard Hill who offered an independent process. He not only promised to champion my vision and words, he included me in every aspect of production. I weighed in on casting to costume, editing to sound track, website to poster, meetings with potential distributors to providing quotes like this for the press. We made our film as true and trusted collaborators, not by by committee. Thanks to Len, Dorfman is more than my dream come true. It's every writer's dream come true."
Matt Ryan – who joined the writers, producer and director, Benjamin Read and Luke Massey, of British production 'Warhouse'at the Marbella Film Festival – said he enjoyed this aspect of independent films. "I enjoy working with Luke and Benjamin and since, both Joseph Morgan (lead actor in 'Warhouse') and I have starred in their latest film '500 miles north' and will continue to work with them on upcoming projects."
Lights, action, party
THERE was certainly no shortage of glitz and glamour as the Euro Weekly News-sponsored festival sparked into life on October 3.
During the day, it was all about the films and their creators, while by night, it was a chance to network and let their hair down with a host of parties.
The five nights kicked off with an 'Ole' with a Spanish Flamenco-themed party complete with Spanish food, music and dance.
On Thursday it was lights, cameras and action with a night of fashion, music and films as well as a fashion show by Gina B and Tersor Paris and a musical performance by 'Tahis Ciurana' at Finca Besaya.
The official festival party was on Friday night and hosted by Marbella Casino. It was a 60s-themed flower power party, while Saturday night was the 'Movies and Musicals' party at the H10 with songs throughout the decades and ladies in feathered costumes on swings, Moulin Rouge style.
The festival concluded with a bang at the Awards Ceremony Gala Dinner Sunday night were guests came dressed in black tie and evening gowns and were entertained by a musical tribute to Frank Sinatra at the H10's ballroom.
---
By Nicole Hallett
---
Links to interviews with the producers, directors, writers and actors for the films 'Dorfman', 'Dreams Away', 'For the Children', 'Warhouse' and 'Notes from the New World' to appear soon.
---