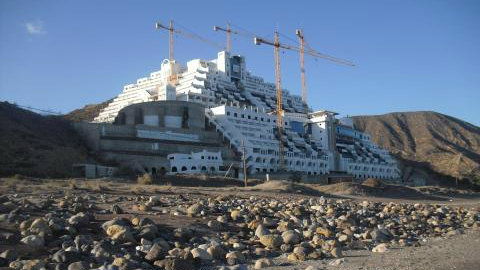 THE hotel Algarrobico in Carboneras remains controversial.
Its demolition would cost €7.175 million, Environment Minister Miguel Arias announced at a Ministers' Council.
But now, Carbonera Mayor Salvador Hernandez has labelled the announcement "a frivolity," given that "there is still no final court order" to destroy the building.
The hotel has become a symbol for environmentalists due to its location at the beach Algarrobico, allegedly violating the 1988 Coastline Law.
It has 411 rooms and 20 floors.
Hernandez also demanded an assessment "of damages caused to the town," claiming Carboneras had suffered "economic, social and touristic damages" which require compensation.
"The building's value is €45 million and it has even received help from the European Union," he said.
"All these administrations are destroying Carboneras," Hermandez claimed. "But this hotel is like a fighting bull, it has finished off councillors, environment ministers and government's presidents." Hernandez has always favoured keeping the hotel to boost the local economy.