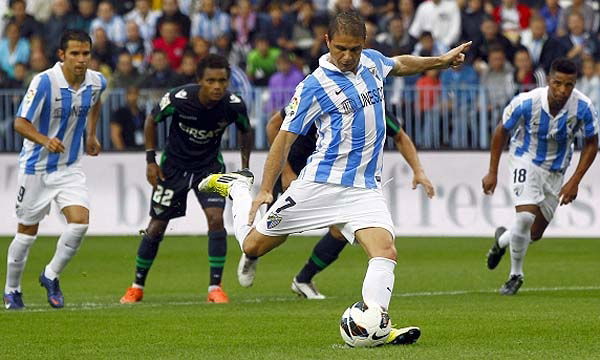 Málaga CF defeated Betis in the sixth BBVA League match by four goals to nil. Manuel Pellegrini's men dominated the match from the start, and were the superior team throughout, with goals from Joaquín, Saviola an own-goal from Amaya and Isco.
Both Málaga and Betis were determined to win the match from the start, both wanting to be first on the score board.  However it was Manuel Pellegrini's team that was soon dominating the match, following goalkeeper Casto getting sent off as a pass from Saviola led to a foul on Eliseu, and the Blue and Whites awarded a penalty.  Joaquín took the shot, and cruised the ball into the back of the net, past new keeper Adrián.  The home side was a goal up with 80 minutes left to play.
 
A fantastic display from Joaquín in the 18th minute from the right wing ended in a low cross to Eliseu, but a save by Adrián forced the ball to hit the post and sent to a corner.  Another action that started from a set piece by Eliseu from the left resulted in a powerful header by Camacho that hit the goal post.  Half an hour into the match, and a fantastic Joaquín ball led to a great action between Portillo and Saviola, allowing the Argentinean-born striker to score goal number two for the Blue and Whites, as he found himself alone in front of the goal. 
 
Málaga CF was extremely confident at half time, having dominated the first half.  Any goal chances that Betis were able to create were soon scuppered by a powerful Málaga defence, who were determined not to allow Pepe Mel's team near the penalty area.
The start of the second half could have seen a third goal for the Blue and Whites, but a great save by Adrián's hand stopped Eliseu from scoring, following a pass from Saviola.  Three minutes later, in minute 53, the Betis defender Amaya saved a shot into goal by Demichelis, after a passfrom Monreal.
Betis' bad luck didn't appear to end, and in the 70th minute, a midfield kick by Monreal led to an own-goal for Amaya, as he attempted to stop the ball reaching Adrián's goal.
 
Málaga CF was unstoppable, and only minutes later, Isco scored an impressive goal, with the ball cruising straight past Adrián.  Santa Cruz set up the ball for the Benalmádena-born striker, to see the Blue and Whites four goals to nil up.  As soon as Seba joined the game, the locals were close to scoring a fifth goal, but Adrián saved the shot and forced a corner.
Málaga CF remains undefeated this season and is still near the top of the table.  The team is now looking ahead to Wednesday's second UEFA Champions League match in Brussels against Anderlecht.
MÁLAGA CF: Willy, Jesús Gámez, Weligton, Demichelis, Camacho, Joaquín (Seba, min. 75), Saviola (Santa Cruz, min 68), Monreal, Eliseu (Recio, min. 68), Potillo and Isco.
REAL BETIS: Casto, Mario, Amaya, Rubén Pérez (Nono, min. 32), Beñat, Juan Carlos (Rubén Castro, min, 48), Salvador (Adrián, min. 9), J. Molina, Cañas, Nelson and Nacho.
GOALS:
1-0 (min. 9): Joaquín (p.).
2-0 (min. 27): Saviola.
3-0 (min. 70): Amaya (p.p.).
4-0 (min. 73): Isco.
REFEREE: Javier Estrada Fernández, from Cataluña.  Goalkeeper, Casto was sent off (min. 9).  Yellow cards were given to Jesús Gámez (min. 55) and Recio (min. 84).
INFORMATION: The sixth BBVA League match held at La Rosaleda, in front of 25,753 fans.  Málaga CF paid tribute to local athletes that took part in the London Olympics, Marta López, Borja Vivas, Duane Rocha and Daniel Martín Docks.