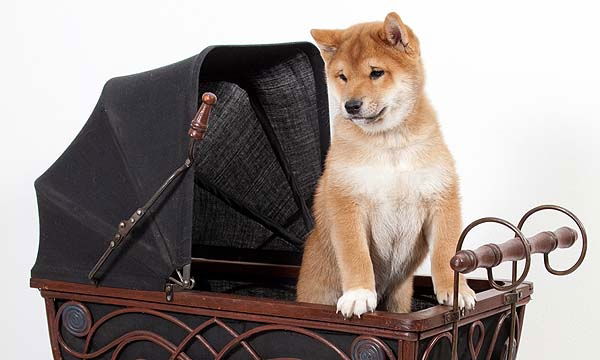 A CANINE in Spain may belong to the same species as one in, say, Japan, but you wouldn't know it from looking at them. While I don't need to brief you on the savage barking of a Pastor Mallorquin or Alsatian in the land of sangria and sun, you may not know that Japanese Fido is fully-dressed in Burberry clothes, wears nail polish and gets pushed around the shiny streets of Tokyo in prams.
A bit of a shock for any foreigner leaning in to admire the new-born, only to find it has fangs and a heavy drool.  I didn't realise quite how many dog owners there were here until passing through the admirable SOS Animal Fundraiser fair in Puerto Portals the other week. Every Tom, Dick and Harry – and the odd José – was there parading mutts and pedigrees in equal measure, all loved and cared for, though it was one occasion to keep your eyes closely peeled on the usually spotless streets of the port.
Back in the land of the rising sun, dog owners scrupulously pick up any offending deposit and even wash down pee, as required by law, with a bottle of Evian – albeit leaving the choice of water to the discretion of the owner. This – as we know too well – is in stark and smelly contrast to the gauntlet of squishy piles that line the Calles in Spain.
Fido is probably not man's best friend here. In the Balearics alone, there were 1,000 dog attacks on humans last year, which is not surprising since they are mainly chosen for their capacity to hunt or deter burglars.
Not as surrogate babies as they are in Japan, or fluffy dinner companions as witnessed in the brassieres of France, where finely turned-out poodles happily chomp away at a Steak Tartare next to Madame. Though this is preferable to Korea, where Steak de Fido may well be on the menu.  
Still, life in Spain seems quite tough for its inhabitants of the doggy kind.  Fixing animals is not common, so unwanted offspring often find their way to shelters, where they meet a gassy end after 10 days, or to a hard life as one of the many strays that roam the countryside in search of survival.
Working dogs don't fare much better: Each year some 20,000 hunting dogs, known as Galgos, or greyhounds, are 'disposed of' after the season ends – some in ways far too upsetting and shocking to be described here. This happens in the UK, too, but with more vigilance and power of animal welfare groups, the method is more humane. Why these poor dogs pass their sell-by date so abruptly is beyond me – best ask your 'friendly' neighbourhood 'cazador' to explain.  
I would still be happy to be reincarnated as a dog, but only if I could come back as my own wee fur-ball, Bruno. His life must surely rival that of the royal corgis. I may not dress him – apart from his annual appearance as 'Santa Paws' – or let him join us at the dinner table, but when he chases birds around the garden at breakneck speed for hours on end, without any sign of boredom or success, he is truly a happy pooch – the way a dog's life should be.