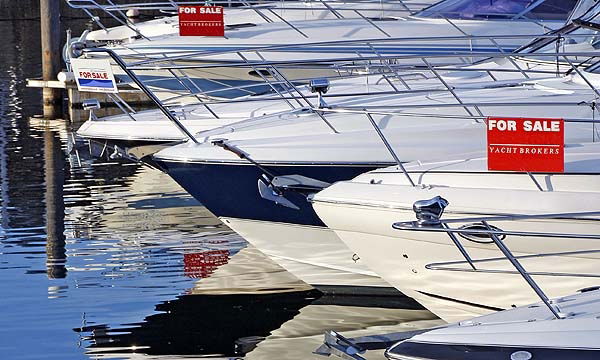 LIVING by the Mediterranean, sooner or later most of us stumble upon the boat conundrum. To buy or not to buy? Our aspirations may range from a particularly sleek canoe or something more sumptuous to accommodate the family, Ferrari and ego, too. The problem is; what if the boat in the berth next door is bigger than yours?
There is little more upsetting than shelving out enough euros to bail out a Spanish bank, only to find that your 40-metre buoyant extravaganza looks diminutive next to Franz' super yacht. Because when it comes to boats, I am reliably told, size does matter.
And since money, despite popular belief, doesn't grow on trees (albeit being made of pulp, so it kind of does) there is the bitter pill of upkeep, mooring, petrol and taxes to keep you afloat.
Although taxes are taboo in this column, I shall make an exception since the controversial matriculation tax  has left many charters high and dry – or more to the point – en route to other countries, where they are welcome with open arms.  
Seems counter-intuitive as a way of increasing revenue in the long run, but then I am not a politician. So, can you actually afford the lovely little Sunseeker that has caught your nautical eye? A 'bargain' second hand, 12-year old, 14-metre, will set you back some 170,000 euros, add a grand for the day skipper course, assuming you actually want to take it out of the port, and about 350,000 euros for a suitable mooring in, say Puerto Banus.  
Plus roughly 10 per cent annual upkeep costs and possible 12 per cent matriculation. You do the math, as my head is spinning. And I don't need to tell you what the costs are for Franz' shiny new super yacht – if you need to ask, you can't afford it.  
If you are still tempted, consider first the comments of bonafide boat owners: "The happiest days in my life was when we bought it… and the day we sold it."  Chances of selling are pretty slim, though. More likely, you will be tempted into trading up for a bigger better model to rival Franz, in order to rid yourself of your first purchase.
This will no doubt be a pleasurable experience for you, but may upset the kids whose college fund is evaporating like ocean mist in the midday sun. The whole boat business is oft likened to "tearing up 50 euro-notes in the shower". And, "if it flies, floats or fornicates, then rent it," as the adage goes.
Still, there are many reasons why you should take the proverbial plunge: Tell the children that it's a ski holiday (Spend the Kids' Inheritance) – you earned it, so you keep it.
Secondly, it is a highly altruistic way of supporting the Spanish economy and the faltering yachting industry – it has nothing whatsoever to do with the fact that you like to hang out on deck, knocking back the cava in a suitably swish port.  And last but far from least, you are merely preparing for a watery apocalypse once the icebergs melt, by investing in your own Ark. Then who will be laughing?  
So, what's it going to be – yacht or not? Feel free to write to me on [email protected] with your boating experiences.