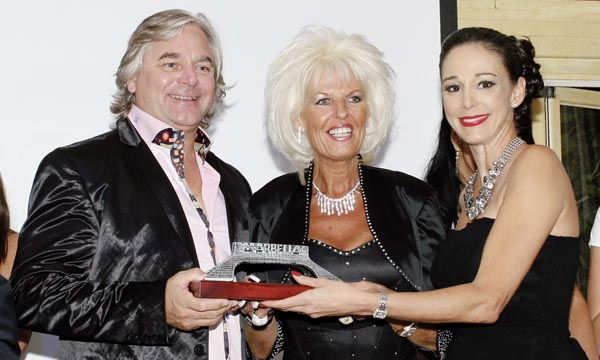 "One of the surprises – well, not any more as it's being published in the biggest free newspaper of the Costa del Sol – is an award to Euro Weekly's Michel and Steven Euesden,"
Muriel Rens.
"This is for being the driving forces behind a fabulous team that publishes each week our favourite English free newspaper."
EWN are opening a new office in the famous Marbella Club Hotel and celebrating an equally important anniversary.
"In 2010 EWN were given a similar award for their professionalism by Marbella te Quiero,"
said Muriel.
THE '100 OF MARBELLA' will celebrate their 15th anniversary with a special edition of the 'Golden Book of the 100 Marbella/Costa del Sol 2013', which will be launched during a black-tie dinner with live music by amongst others Stephen Lloyd-Morgan.
There will be an evening- wear fashion show by Patricia Nahmad and lots of surprises on Friday December 14 at La Meridiana. "The 15th anniversary edition of 'The 100 of Marbella' will be dedicated to all the businessmen/women and professionals of Marbella/Costa del Sol who work towards the progress and development of Marbella/Costa del Sol. For being true professionals as well as in some cases employing people and being positive about the future of our beloved Marbella/Costa del Sol," explains Muriel Rens.
The aim of Oscar Horacio's brand 'Marbella te Quiero' is to promote Marbella in a positive way; one of the examples is the jewellery collection in collaboration with Manuel Spinosa in which the sun and famous landmarks of Marbella are represented. 
Taking 'The 100 of Marbella/Costa del Sol' as their flagship book, Los 100 in the World have edited 14 books of 'The 100' since 1997 not only in Marbella and the Costa del Sol, but also in Riga (Latvia), Caracas (Venezuela) and Guayaquil (Ecuador). Budapest (Hungary), Moscow (Russia) and Panama are to join 'The 100' series soon. 
Each participant of The 100 books has a double page: one with their business advert or information and on the opposite page a profile picture and a short biography. The luxury hardcover book has a print run of 2,000 copies and targets a high-end clientele through distribution in key locations of Marbella as well as being on sale. 
The complete book will be uploaded to www.los100intheworld.com. A book is forever, especially this one for the 15th anniversary, which will include lots of social life, stunning pictures and editorials.
Anyone proud to live and work in Marbella/Costa del Sol and would like to promote their business or themselves in The 100 of Marbella 2013, please contact Muriel Rens on 666 711 183 or at [email protected] for more details and conditions.