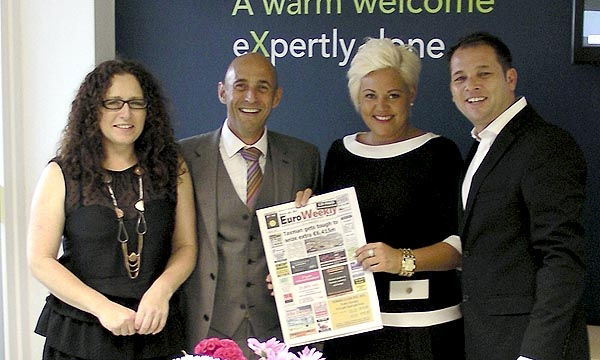 HiFX the leading international foreign exchange and money transfer services company, have opened their newest office at Centro Plaza in Nueva Andalucia.
More than 300 guests, both Spanish and international partners and clients, attended the opening on Friday.
Real estate agents, lawyers, financial advisors, relocation companies as well as the Press and media were all well represented, joining leading figures from the British Chamber of Commerce in Spain and the British Vice Consul from the British Consulate in Malaga, Rosslyn Crotty.
The HiFX team in Spain were accompanied by founding partners Laurence Butcher and Shaun Taylor, who commented that the opening of the new office was an important part of the group's commitment to the ex-pat community, which they are very proud to serve.
Guests were treated to HiFX cocktails, created in the company's brand colours by Yanx restaurant especially for the occasion to ensure the conversation flowed all evening as well as wines, beers and soft drinks.To tempt the taste buds there was a generous selection of sushi and other tasty appetizers including Crab and Caviar Bellinis, Beef Fillet Sticks and Raspberry and Mascarpone Tartlets with Belgian Chocolate! 
Renowned 'Cortador de Jamón' or 'Iberian Ham Cutter' Pedro M Polvillo showcased his truly artistic technique by cutting two whole legs of ham for the crowd by hand – a performance in itself – educating the audience on how to appreciate several different tastes and flavours from the same leg of Jamón.
Guests ate and drank, chatted and mingled, and danced until midnight to the music of world- class house violinist and showman Quikke Navarro whose electric violin, laser bow and unlimited energy helped create the perfect party atmosphere.
Member of the Magic Circle 'Magic Al' mixed with the crowd, wowing the party-goers with his exciting close-up magic, making sure that everyone interacted with him so the magic happened in their own hands.
Over a decade ago, HiFX's founding partners realised that by minimising unnecessary banking overheads and investing in technology, they could offer both companies and private individuals significantly better exchange rates and provide an exceptional foreign exchange service with no hidden fees.
"The new office is in a superb location in Centro Plaza, Nueva Andalucia, with a fantastic view," said Keith Spitalnick, Head of European Sales for HiFX. "We invite clients to come in and meet the team over a coffee, use our secure internet suite to log in to the online service themselves or, for clients who prefer the more traditional approach, we of course also offer them the option of making their international payments over the phone with a dedicated dealer for that personal service.
"We really do cater to the needs of all our clients – those who are comfortable online, those that need some guidance online and those who prefer to speak to someone to transfer their funds.
"I am very fortunate here at HiFX Spain to have such a fantastic team. Kelly Eason, Carlie Reid and Amanda Best, who help run the office, have worked in foreign exchange on the Costa del Sol for many years so they have the local knowledge to really assist you. I am confident that with our expertise and our money saving service we can really benefit the ex-pat community."
Business Development Manager Kelly Eason added: "Many people don't realise that there is an alternative to the bank when it comes to international payments. We can save as much as 4% on the price of a property, which puts thousands of extra pounds or euros in your pocket.
"And of course our Regular Payments Abroad service provides clients with the quickest and easiest way to make frequent international payments whilst avoiding the unnecessary fees charged by the high street banks. Whether they're paying an international mortgage, making salary transfers or transferring a UK pension overseas, our team can automate the payments via direct debit, ensuring clients never miss a payment."
---
For further information about HiFX Spain and how they can help you with your international transactions, please call 951 203 986, email [email protected] or visit their office in Centro Plaza, Nueva Andalucia, Marbella, where you can meet the team and use the new internet suite to log in and use HiFX Online.