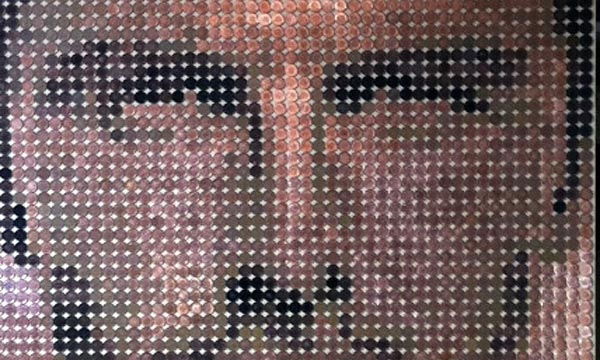 BRITAIN´S leading mosaic artist will be the focus of a unique art exhibition in Marbella later this month. It will be the first time Ed Chapman – who made a Jimi Hendrix portrait out of 5,000 plectrums for Cancer Research UK last year which sold for £23,000 (€28,750) –  has shown his work on the Costa del Sol.
The Manchester artist who has worked with royalty has created six unique mosaics to be  displayed by the Art Wanson Gallery at the Marbella Club Hotel-Golf Resort and Spa at the exhibition opening on September 27, running for three weeks.
Chapman, who will attend the opening, has created portraits in stone and ceramic tile of Pablo Picasso and Salvador Dali for display. He will also be showing portraits of John Lennon and David Bowie and a portrait of footballer David Beckham, made of 3,504 coins.
He has also made a unique mosaic table of the US flag. Previously Chapman is famed for having created works in glass, chewing gum and sugar cubes and has sold to celebrities with his mosaics giving the ancient medium a funky new twist.
"I'm really looking forward to this exhibition in Marbella," said Chapman. "I've got some special work being unveiled and I think my portraits will fit in well with the cool ethos of the resort. The works can be best appreciated when they are seen up close."