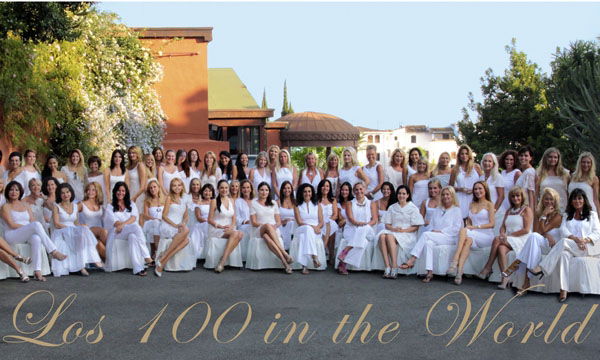 'LOS 100 IN THE WORLD' and 'Marbella te Quiero' are celebrating the 15th Anniversary of the first 'The 100 Book' with the 'Golden Book of the 100 Marbella/Costa del Sol 2013'.
The golden book will be a special edition dedicated to all the businessmen, women and professionals of Marbella and the Costa del Sol. Oscar Horacio has more than 20 years experience in the publishing business.
He launched Costa del Sol's first magazine in Spanish and Russian 'East Country Magazine' in 1991, followed by the hardcover books of 'The 100 of Marbella' in 1997 and co-founding 'Social Life Magazine'. He has also been hosting the successful television show 'La Hora de Oscar Horacio – Marbella te Quiero' on local Marbella TV channels for the past 15 years.
He has edited 14 books of his flagship book 'The 100 of Marbella/Costa del Sol' since 1997, not only in Marbella and the Costa del Sol, but also in Riga-Latvia, Caracas-Venezuela and Guayaquil-Ecuador. Budapest-Hungary, Moscow-Russia and Panama are to join soon 'The 100' series. 
Each participant of The 100 books has a double page: one with their business ad or information and a profile picture and short biography on the other. 
Oscar Horacio managed to bring 86 businesswomen of Marbella together, all dressed in white, for the group picture of The 100 of Marbella 2011, special edition for the Centenary of the International Women's Day and has challenged himself to gather together 100 business people of Marbella for the 15th Anniversary edition's group picture which will be taken mid-November. 
The luxury hardcover book prints 2,000 copies and targets a high-end clientele through distribution in key locations of Marbella as well as being on sale. The complete book will be uploaded to www.los100intheworld.com.
A book is forever – especially this one for the 15th anniversary, which will include lots of social life, stunning pictures and editorials. The 'Golden Book of the 100 Marbella /Costa del Sol 2013' will be presented during a black tie dinner with live music, fashion show and lots of surprises on Friday December 14 in La Meridiana del Alabaradero.
Anyone who is proud to live and work in Marbella/Costa del Sol and would like to promote their business or themselves in The 100 of Marbella 2013, please contact Muriel Rens on 666 711 183 or at [email protected]. for more details and conditions.