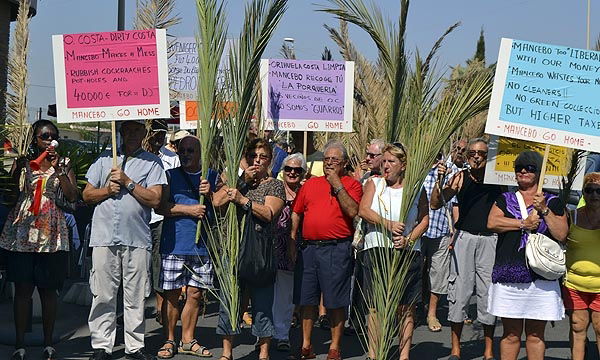 ORIHUELA COSTA Town Hall has recognised there is an issue with the collection of green rubbish and garden waste along the coast. They say that people regularly ignore the collection days.
The area is divided into three zones with each zone having a different collection day, according to Councillor Martina Scheurer.  Whilst admitting this is not the best solution and this year has been particularly bad, notifications have been made to community presidents, individuals on their mailing list and posters within the town hall stating when these days are.
If people complied with these and put their rubbish out the night before their collection the place would look a lot tidier without the mass build up of garden rubbish that has been happening, littering the streets of the Orihuela Costa over the summer.
"It seems like people don't behave like this in their home country" said the councillor. This comes following last week's protest which saw around 50 people demonstrate against the state of the streets.
A noisy protest marched through the streets from the Mercadona car park to the town hall in Playa Flamenca carrying placards reading 'Orihuela Costa – Dirty Costa' and 'No cleaners, no green collection, but higher taxes.'
Many were calling on councillor of the coast Pedro Mancebo to 'go home' criticising him for allowing the build up of rubbish. Hanna Krauger, 61, from La Florida has lived here 13 years and says this has been the worst year she has known, "It is just horrible, they promised to clean it up but nothing has happened.  We pay our taxes and want something back for it." She added, "It is a fire hazard, if it set alight what would the story be then?"
Ex-coordinator for the international residents and current member of the PP party, Stefan Pokroppa, said people were angry at the council spending almost €40,000 on a DJ to play during the summer that most people had never heard of.
"All that money for one day when they say they have no money for more bins or collections." The Town Hall in Playa Flamenca has full details of when collections take part and for anyone that needs larger items or furniture collected they should call Veronica, who speaks all languages on 966 760 000, ext. 29 and 42 and a date and time for collection will be given.