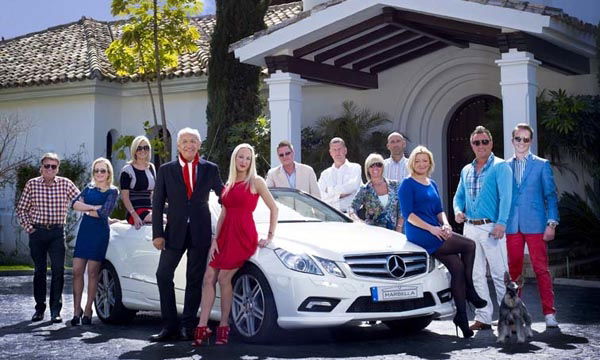 MANY months has gone into the intricate planning and development of Richard Lewis Living, a branch of renowned company Richard Lewis Interiors; conveniently located next door to their showroom, in the heart of Guadalmina Alta. 
It promised to mirror Saks – Fifth Avenue, Harvey Nichols, John Lewis and David Jones and indeed it did as some 200 guests marvelled at the luxurious store on the opening night.
The happy crowd were treated to copious amounts of oysters washed down with the finest wine whilst being entertained by violinist, Quickie Navarro.  There followed the live screening of Marbella Mansions. It was quite literally show-stopping and portrayed Seb and Jonty quite beautifully as the maestros they undoubtedly are, within the world of interior design.
Jonty Richard Lewis and Sebastian McLeod threw a stunning party to celebrate the official opening of Richard Lewis Living home and lifestyle store and café in the heart of Guadalmina Alta with the premiere screening of UK TV Home series Marbella Mansions starring the multi-talented duo.
MULTI-TALENTED DUO: Jonty Richard Lewis and Sebastian McLeod.
HAPPY CROWD: Jonty Richard Lewis (centre) with guests at the opening night.
ENTERTAINING: Violinist Quickie Navarro.
Four of the 10 episodes are dedicated to Jonty Richard Lewis, well-known Marbella designer and personality. Jonty, who is originally from Ramsbottom, Lancashire, and his partner Sebastian are well known in Marbella for their outrageous and colourful design style.
Throughout this new series, Jonty showcases his design talent across a variety of luxury properties; an exclusive golf townhouse; a stunning apartment; as well, of course, opulent villas and mansions.
Jonty Richard Lewis may be the King of fabulous interiors and gardens, but his personal approach with his privileged clients is down to earth, and super discreet. He makes sure that every project truly reflects the lifestyle of the property owner.
Jonty, however, is a natural risk taker, and loves to push the boundaries of interior design. He was the first in southern Spain to pioneer the concept of the fully integrated Show Home; allowed discerning clients to purchase not only complete bespoke interiors but also to be inspired and shop by room style, as well as indulge temptations for all manner of home accessories.
Jonty and Sebastian's new retail and lifestyle concept 'Richard Lewis Living' west of Marbella, encompasses not only Jonty's creative studio, workshop and showroom, but also a new home and interiors boutique, innovative gift shop together with a stylish café bar.
In a nutshell it boasts portable home accessories.  "It is very design led and all chosen by us," say Jonty and Seb. "We sell all the type of things we have in our own home such as the shower gels we use.  It is very much about us both, such as our own range of RLI candles, towels and bedding range.  We will also be selling, gift cards and gifts, stationary, books, garden accessories and plants."
Richard Lewis Living also sell deli items such as a large selection of preserves and sauces all imported from the UK, different teas, chocolates, sweets, meats and cheeses and a variety of fine wines, whilst establishing a wine club for those 'vino' connoisseurs here on the coast.  Every Friday and Saturday they will be holding a market with fresh flowers and organic vegetable boxes.  Each one will be rather a surprise as there will be the staple fresh produce combined with other vegetables that are currently in season.  Nice big boxes for say a family of four.
Incorporated within the store is a coffee shop, come wine bar.  Jonty and Seb have chosen their own blends and are even roasting the coffee beans themselves.
They have a sun-drenched, turfed terrace, where clientele, once they have completed their purchases, can enjoy coffee or a cool glass of wine whilst treating themselves to a mouth-watering Panini with a variety of ingredients, freshly baked on the premises. 
Richard Lewis Living is one of those shops you walk into and just go 'wow'.  Customers will not be able to walk in and resist the urge to buy.  Many of their items are in the €5 range.  Jonty and Seb envisage people walking in and buying a bottle of wine for a dinner party, maybe a gift for the host, have a coffee and buy some bedding, hand gel or any other of the multitude of home accessories they have within Richard Lewis Living.
In early October, they will be opening a studio upstairs for a multitude of classes; from pilates, yoga and ante-natal classes to flower arranging, life coaching, languages including Chinese and Moroccan, spiritualism etc.  They will be covering the whole teaching spectrum.  There will also be a dance area; the rooms can be rented for an hour and a half; the price around €25.   It will be decorated in a really funky style and radiate the great energy that the pair are known for.
Contact
Richard Lewis Living, C.C. Guadalmina IV, Local 36, 29670, Guadalmina, Marbella.
Open Monday-Saturday, 9am-9pm, Sundays 10am-2pm.   
Tel: 952 886 213.
info@richardlewisinteriors.com  
www.richardlewisinteriors.com.