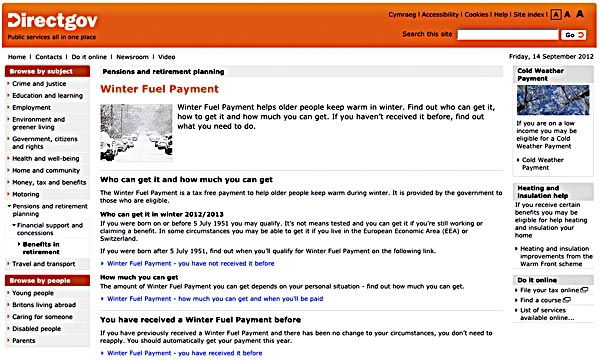 BRITISH revelations that many of the 100,000 expat pensioners in Spain unable to claim the winter fuel allowance will soon get it is hot news. The potential payment windfall will come as a welcome boost to tens of thousands, who for many years have felt slighted by being unable to claim the one-off payment despite having paid into the British state pension scheme all their lives.
But not ALL British pensions will be entitled to claim…and the payment will not automatically be made to anyone who at present does not receive it. Previously elderly expats could only receive the allowance if they had left Britain before they turned 60 and after the payment was brought in 1998.
With the new terms of an EU ruling, expats need in future only have a 'genuine and sufficient link to the UK' to qualify. This includes having lived or worked in the UK for most of their lives.
This means some of the long-term British expats now living in Spain, but following years abroad, including in the Middle East, may remain uneligible for the payment. People claiming the payment must have been born on or before July 5, 1951.
The payment ranges from £200 (€250) for a household with a pensioner to £300 (€375) for families including someone older than 80. Those who have previously received the payment do not need to reapply, while those who have not should make their claim by March 31, 2013. Those whose partner's are currently receiving the payment will also need to claim.
Meanwhile, the UK's Work and Pensions Secretary, Iain Duncan Smith is fighting the ruling by the European Court of Justice through introduction of  a new "temperature test" so that pensioners living in warm countries do not benefit.
This new temperature rule would also apply to pensioners in Britain, meaning those in the south of England could lose the benefit, while those in  colder parts of the EU would receive it, some sources claim.
The vast majority of pensioners in Spain complain that people in the UK – including the polticians – do not realise how cold some winter nights are, with temperatures dropping below freezing inland, and in the single figures even in the warmer coastal areas.
More information: Directgov at http://www.direct.gov.uk/en/pensionsandretirementplanning/benefits/benefitsinretirement/dg_10018657 and the International Pensions Centre can answer queries by calling 0044 191 218 7777.