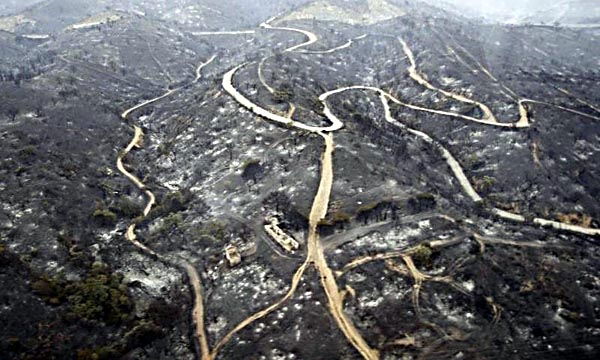 THE stench of fire remains all around, the claims continue to flood in, the hardship for victims goes on and the investigation is ongoing.  But on the surface, no-one appears able – or perhaps willing – to answer some key questions including a total estimate of the damage caused by the worst fire in Malaga Province for 20 years, which started two weeks ago tonight (Thursday).
While running into hundreds of millions, no insurance sources have put a total figure on the killer wildfire that destroyed 8,225 hectacres. Nor, despite early reports that the leading theory was that the fire initially looked to have been started intentionally, is anyone pointing the finger at the EXACT known cause.
The fire in which one man died and five people were seriously injured, started at Barranco Blanco in Coin and hit  200 plus homes in six municipalities. For almost two weeks, the clean-up has gone on day by day, with every daylight hour seeing workers as well as householders struggling to get the blackened area slowly back to normal.
Meanwhile, it has been announced that government subsidies to people whose homes were affected will be paid out by about next February. But in the case where properties are second homes then owners will not be entitled to government subsidies but will be covered by private insurance. 
Irregular or illegally built homes whose owners can prove payment of the property tax (IBI) or similar will be entitled to compensation. Subsidies will be up to €15,120 for destroyed homes, €10,320 for structural damages in a main domicile, €5,160 for less severe damages and up to €2,580 cases of destruction or damage to household equipment. 
Victims of the fire in Marbella will get discounts in building permits for works in damaged homes, according to the mayor Angeles Muñoz. Also special measures have been launched by the city council to restore lighting and equipment, clean residues and replace damaged signs. Meanwhile it has been said that forest restoration works could start in one year.