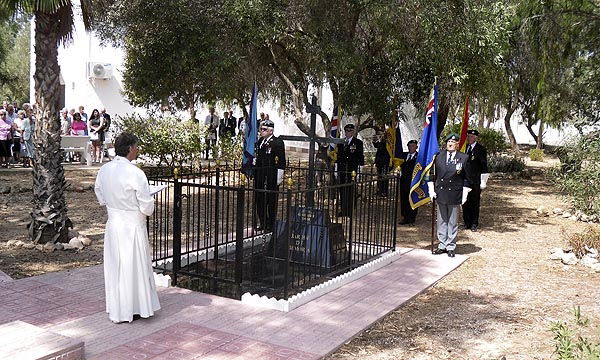 THE GARDEN of Remembrance at La Siesta Parish Evangelist Church has been rededicated. The service, led by Reverend Chris Scargill, was attended by members of various Royal British Legions with standards carried by Torrevieja Royal British Legion, the Royal Air Force Association and the Royal Marines Association. 
The service was to dedicate and hallow the ground around the Garden of Remembrance where a new path now allows access to wheelchair users and others with disabilities.  
Pam Brooks a founder member iof the Torrevieja Royal British Legion and a wheelchair user, cut the ribbon. The last post was played by John Atkins. The Royal British Legion has thanked the Royal Airforce Association and the Royal Naval Association which each donated €250, plus other kind donors. 
Gill Burden, the chair of the Torrevieja Royal British Legion has also apologised to the Royal Naval Association who did not recive an invitation due to an oversight.