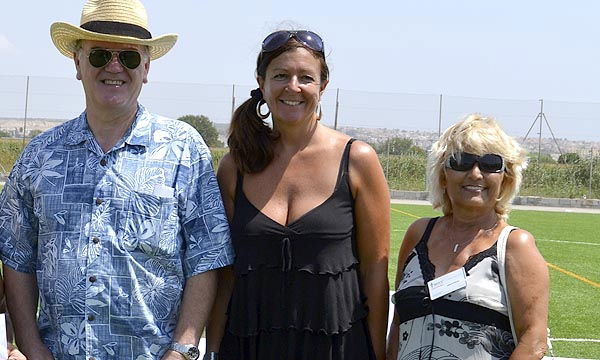 MORE THAN €9,000 has been donated by San Fulgencio local community to the Asociación Española Contra el Cancer (AECC). "All the funds raised for the AECC go to our head office and will be used for mammograms, cervical and prostrate cancer awareness and the screening and early detection programmes plus research," said Maria Wilson, President of the Torrevieja branch of the AECC who received a €9,152.45 cheque donated by Sarah Bavington and Paul 'Doc' Docherty from Urbanisation La Marina.
They organised a series of fundraising events including a charity golf day, auction, sponsored hair grow and a football match fun day against the San Fulgencio local police. The match was the idea of Doc who was diagnosed with cancer towards the end of 2011.
While receiving treatment at Torrevieja Hospital, he became aware of AECC work, and later suggested the charity football match. With the support from the councillor for the urbanisations, Jeff Wiszniewski and the town hall the idea grew momentum and even resulted in the auction of an official signed Lionel Messi framed photo auctioned for €560.
During the presentation Maria said: "I would like to say a big thank you to Sarah and everyone involved and wish Paul all the best with his treatment."