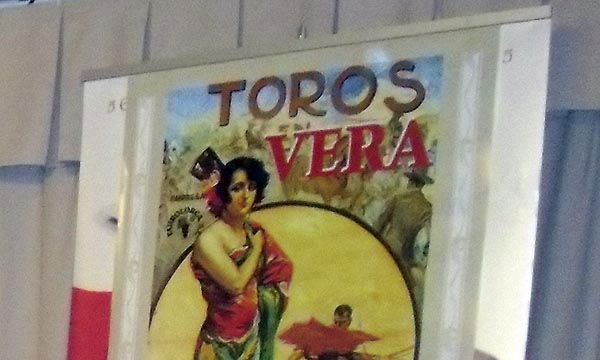 TWO prestigious stockbreeders have presented the poster for the San Cleofás 2012 Bullfighting Fair. The presentation at Terraza de Carmona Hotel in Vera was made by stockbreeders Torrestrella  and Murube, whose bulls have fought against bullfighters Padilla, El Fandi, Sergio Aguilar; Fermín Bohorquez, Andy Cartagena y Diego Ventura.
 The Mayor of Vera José Carmelo Jorge,  Councillor  for Tourism and Events Catiana Soriano, bullfighting empresario Juan Reverte, the President of the Vera Taurean Club Francisco Carmona and restauranteur Ginés Carmona were in charge of  the event.
 The San Cleofas 2012 festival will take place from September 23 – 25 and despite the economical situation stockbreeders and bullfighting officials say quality and prestige remains.
Bullfights  on the opening day will feature six bulls from the Torrestrella breeders and on September 25, the patron day of San Cleofás, another six bulls from Murube will fight, an event wanted for some time, an excited Reverte said. 
Following presentation of the posters Mayor Jorge said" with respect to the rights of those who are not in favour  of bullfighting, the Vera Town Hall is holding this national fiesta because if bullfighting did not exist, fighting bulls would disappear.
"As a result of these events, the breeding of fighting bulls and everything that goes hand in hand with it creates employment that would be lost if the fiesta was abolished."