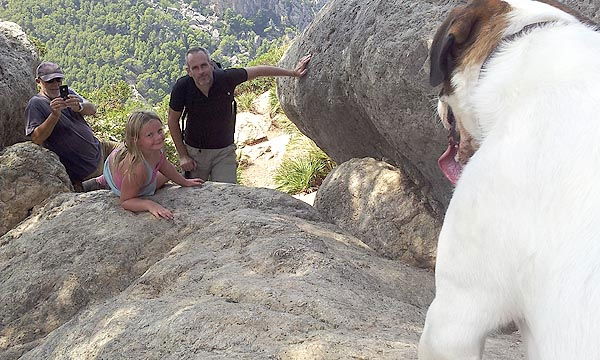 We went on a wholesome walk last weekend. It was a lovely sunny Sunday and that's what you're supposed to do isn't it? Not laze around at home eating cereal out of the box and watching the Formula One, no, you should be hiking. So we did. My husband has something called a 'Trangia Stove'. It's an alcohol burning cooker (he uses meths). He likes to take it with us and cook things, it makes it more of an occasion he says, for La Gidg. It helps to encourage her to get to the destination as the novelty of cooking outside is just that. 
Off we set up the hill on Sunday morning, my husband, my little girl, my father and I. Complete with walking boots and poles, rucksacks, open air cooker, the lot. We even had a Saint Bernard with us: Remy, my father's 'little horse'. We had sunblock, we had hats. 
It was all going well. We yomped up the hill towards our destination, we were cheerful. If you have ever taken a six year old for a walk when they prefer swimming, ice cream and cartoons then you will know how important it is to stay as cheerful and upbeat as possible. 
Before we moved to Mallorca I had a vision that we would do healthy things like walking and had bought a pair of fancy Berghaus boots for exactly that purpose, but then I've hardly used them in the last eight years of living here. So I was chuffed to be wearing them.  But I was rather dischuffed when I looked down and realised that my expensive boots were literally disintegrating in front of my eyes.
The sole of one, and then the other came away from the rest of the shoe. Of course, being the grown up means setting the example, so the option of turning back and aborting the mission was completely out of the question. Valiantly climbing a mountain in your socks suddenly became the only way up. As I walked along I could feel the rest of the shoes crumbling underneath my feet, how bizarre that they should fall apart just like that. Never mind I told myself, you will be fine. 
We reached the top and made hot chocolate on the Trangia, which lived up to its entertaining reputation. Then it all really started to go wrong on the way back down. It was all down to the girls really: La Gidg started to complain that her shoes were pinching her (she's just had her summertime grow as it turned out they were a little on the small side for her), so my husband ended up giving her a piggy back more or less all the way back down.
Remy the dog kept sitting down for a rest and I slowed to about 1km an hour as I tiptoed through the rocks. We all literally limped back to the car and then straight to the bar.  A fine case of 'Big foot in the sky' as my late friend Diane would say. What was the operator of the Big Foot trying to tell us? Either don't go walking again or get shopping. I have decided, we will not be deterred. We are going to do the GR221 this autumn. Bring it on. 
To read more from Vicki and to contact her visit www.familymattersmallorca.com