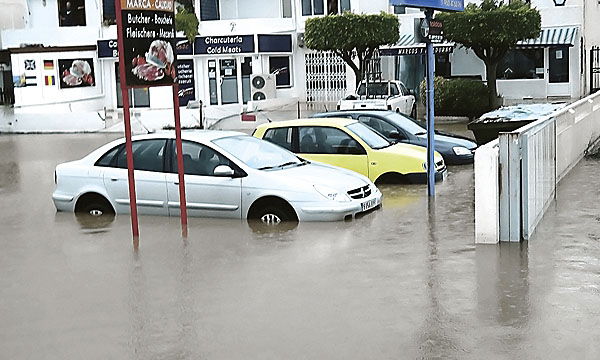 IN the aftermath of the torrential rainstorm that battered Mojacar, a massive effort has been made to reinstate some semblance of normality to the promenade of Mojacar Playa.
Thursday's storms caused flooding and electricity in the area was severely affected with Mojacar Pueblo and The Parque Comercial intermittently cutting out until 9am. The destruction of general water pipes on Mojacar Playa and surrounding areas left a large number of residents without mains water for almost two days.
Many houses suffered considerable damage with outside walls collapsing and serious flooding. Residents had to resort to using water from private swimming pools in order to be able to start the clear-up.
Areas like La Parata were very badly affected in so much as the problems of the past were still very much in evidence. For example, the overflow each year of the riverbed which, despite efforts to divert the water, is a major thorn in the side of the community, walls which have previously suffered, continue to collapse.
Road verges collapsing at points which would inhibit entrance and exit to the area and a landslide on the main road to the area being of particular concern.
Beaches, albeit devoid of sand – bearing in mind the beaches here are man-made – but now cleared and green flags flying for those visitors who have been plunged into a situation of "what do we do if there is no beach to sit on".
Storms of this nature are expected now and again, but it is clear that most residents of Mojacar are of the opinion that a lot of the damage could possibly be avoided with careful planning by the local authorities, and they feel that once the situation is controlled it seems to be immediately swept under the carpet.