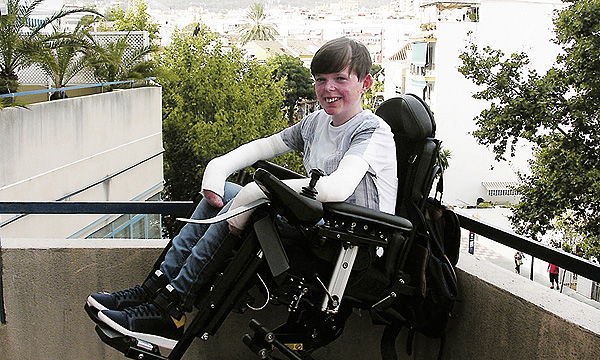 Disabled James has fun in Marbella
A pioneering flat in Marbella offers respite for many families with Butterfly children. Nicole Hallett reports.
Vital Statistics
• Name: James Dunn
• Age: 19
• Places visited: Orlando and Las Vegas in USA, safari in South Africa and Barcelona, Benidorm, Mallorca, Ibiza and Tenerife in Spain.
• Favourite place: Marbella because of the apartment and the friendly people.
• Wants to visit: Japan for technology and Thailand where his uncle lives.
• Favourite food: Thai, tortilla, patatas bravas and croquettes.
• Drives: A specially modified Volkswagen, which costs him €250 a month.
• Worked as: Volunteer ticket processor at police station and a researcher on a student radio station.
• Hobbies: Wheelchair football, photography,, keeping hens and ducks.
• Achievements: Appeared on This Morning, Jeremy Kyle Show and Blue Peter, winning the gold BP badge because of a musical he performed in to raise money for DEBRA. Only five people in the world have this badge. 
MEMORIES of teenage holidays frequently last for life. But for 19-year-old James Dunn from Liverpool, these will not revolve around discos and beachside fun. For James has Butterfly skin and is wheelchair bound, having never walked.
For him a holiday means having to travel with many bandages and dressings, medication and nutritional products, and accompanied by his mother. Not only do these items take up a lot of luggage space, but they often encounter difficulties at airport security checkpoints.
In order to be able to have the room size and facilities necessary, they have to stay at four-star hotels which can cost around €2,000 for a week's stay. Bloody bandages and clothes have to be sent to the laundry, which can be embarrassing.
With a pioneering respite home in Marbella – unique in the world – these difficulties are lightened. Patients and their families can stay at the flat for just €50. In the past three years about 30 families have used it including those from Spain, the UK, Ireland, Germany and the Ukraine, according to Minerva Quijera from DEBRA Spain.
Throughout their stay they are supported by a medical team including two nurses, a psychologist and a social worker, all provided by DEBRA Spain. This offers them a respite with everything they would have at home. "It gives us confidence," said James' mother Lesley. "The young nurses are lovely and can relate better to young people."
While young, all nurses provided by DEBRA are specialists with the proper training. "I feel comfortable letting them change my bandages," said James, although usually his mother is the one to carry out this task at home.
His bandages, which cover most of his body, must be changed every second day which takes around four hours and is extremely painful. It then takes another hour to get his clothes on.
The location of the apartment is in central Marbella, allowing families to easily enjoy all that Marbella has to offer, as it is not always easy to get transport that takes a wheelchair.
A holiday for James means 'the world'. "At home I don't go out much and my old school friends don't really have time for me, so a holiday is something I can look forward to," said James.
The holiday also serves to distract James from his pain. Usually he has to take morphine every four hours to help keep the constant pain at bay, but when on holiday he can go for longer before having to redose.
During the holiday, James and his family have gone out every night to various restaurants, including Jimmy's Bar that fundraises for DEBRA. The Dunn family loved staying at the apartment so much they have booked to come back in November and hope to be able to come back more frequently.
How to help give DEBRA Spain wings
FOUNDED in 1993, DEBRA Spain is a non-profit making organisation which was formed to provide support and to improve the quality of life of those affected by EB. In Spain, families have to pay between €800 and €2,000 a month on bandages, creams and the nutritional shakes, which are needed to ensure that patients are getting enough nutrition, as eating normally can be too painful.
This is because these items are not considered medicine, explained Minerva. DEBRA Spain receives very little funding from the Government, so relies on fundraising and the generosity of individuals and companies. Individuals and companies may donate prizes so that the charity can organise raffles and auctions and donate all sorts of good quality and unsold goods to their charity shops.
Another way to help is to become a volunteer and help out in the charity shops, seeking donations for the shops or events and helping during the events.
To donate monthly, quarterly or yearly, simply become a member of the charity. Call 952 816 434, email [email protected], see their website www.debra.es or head on down to their Marbella office on Calle Jacinto Benavente 12.
What is Butterfly Skin?
EPIDERMOLYSIS BULLOSA (EB), also called Butterfly Skin, is an incurable, rare and serious genetic condition that affects the skin making it as delicate as a butterfly wing. Simply touching the surface of the skin causes severe blistering and wounds that never heal. Even a slight breeze or water is painful.
Blistering can also occur internally in the mouth, oesophagus, intestine, airways, urinary tracts and even the inside of the eyelids, leading to further suffering and serious health problems. EB causes a serious disability because people suffering from this condition require intensive daily care from their relatives and affects every part of the sufferer's life.
One in every 227 people is a carrier of the condition without even knowing. Scientists are looking for a cure. James has participated in one of the clinical trials in which Fiberblast cells were injected directly into one of his wounds. "I was supposed to have it done in three different wounds, but it was so painful I could only manage one," said James.
He hopes to be able to participate in future trials that do not involve such painful methods. "Doctors said that they are working on a pill, so I hope that will be successful." James asks that everybody "please just keep supporting the charity so it can get closer to a cure."