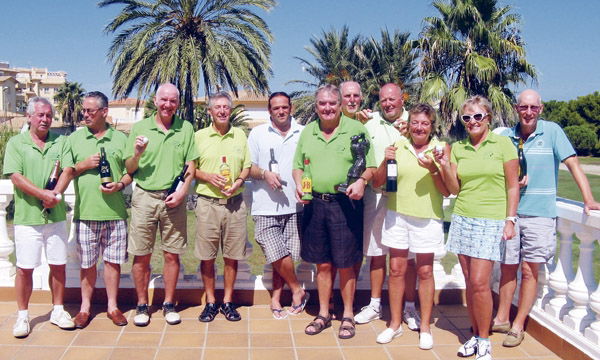 THE annual playing of Montgo Golf Society's Middleton Summer Trophy took place at OlivaNova on Friday. Pride of place went to Jimmy Fletcher who scored 37 points from his 25.4 handicap to win the trophy. 
Three players scored 36 points and on count back, second place went to defending holder, Gordon Gleeson (13.2), third was Neil Carter (8.7) and Ed Wallace (7.1) fourth, with John Dayin fifth place on 35 points from 10.7. Nearest the pins were won by Alain Nozahicat on the third and Mick Farmer on the sixteenth with Pat Casson-Smith and Tony Carroll winning on the fight and eighteenth for the best second shots. 
There were five two's today – Pat Casson-Smith, Ed Wallace, Christiane Gruboeck and Mick Farmer with John Feek taking home two of the coveted Montgo balls.  There was a third round match in the Singles Competition which saw Neil Carter defeat Ron Steele three and one.
The Society's next game is at Oliva Nova is on Friday September 14; first tee 9.28am.
www.montgogolfsociety.net 
---
By Richard Morris