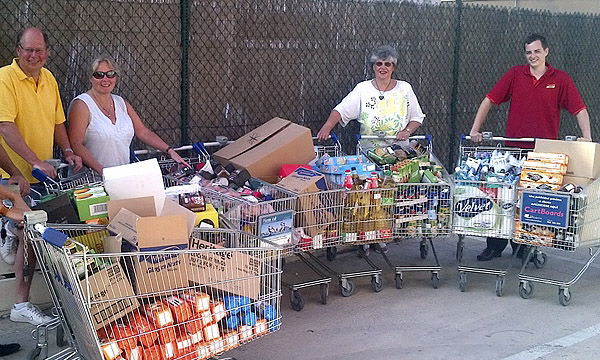 A MYSTERY woman has donated €3,000 cash to a Christian charity box in Javea Iceland supermarket. In this age of greedy bankers, overpaid footballers and fat-cat management, her generosity has restored faith in the human race for supermarket managers Kevin and Helen Gabriel.
The supermarket has been displaying a 'drop-in-a-box' for the Mosaic Christian organisation requesting food donations for the poor and needy for two years.  
Over the period, they have met with some measurable success, but the € 3,000 tops them all. The donation has now been used to buy nine trolley's of perishable food. And the woman – on learning that the charity had recently lost their church premises – additionally donated €500  towards the purchase of a fridge freezer.
'Mosaic' Pastors Peter and Tricia Cox were almost lost for words by the woman´s kindness and generosity. "When we received a phone call from Iceland asking us to collect nine trolleys of food, we couldn't believe our ears, especially as we are celebrating our second anniversary.  What a present! 
"Unfortunately as we are an organisation without a home, the sorting and distribution of such a generous amount of food became that much more difficult, but when the news got out, various kind folks offered their garages as temporally facilities. 
"Our prayer now is that someone will offer us a dry storage unit in Javea at a peppercorn rent. We would like to thank Iceland for their ongoing support and our lovely lady benefactor not only for her overwhelming kindness, but also for giving us the renewed belief that maybe anything is possible, even flying-peppercorn pigs."
If you can help 'Mosaic' or need help, please contact Peter or Tricia at 678 066 222