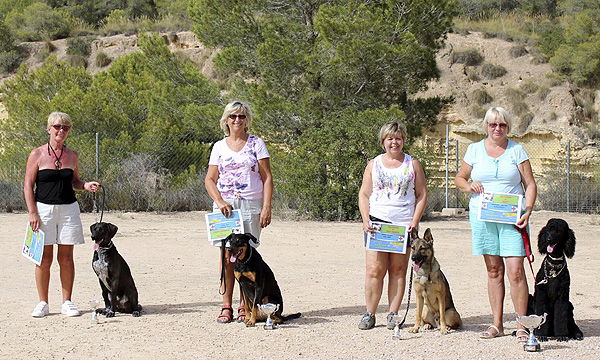 THE winners of the Campoverde Canine Club obedience course were presented with their certificates and trophies at the Pinar de Campoverde Polideportivo Sports Ground.
For only the second time in 12 years there was a tie for first place in the basic class, with a score of 108.7 out of 110 points, to Frances Race with Charlie and Irene Allen with Odin
The winner of the Intermediate class was Julie Mansell and her dog Tazz scoring 127.8 marks out of 140. No one achieved the necessary standard for the advanced class.
The winner of the agility class was Marlene Smythe and her poodle Dudli. Photographs of Dudley by searching the internet for ´Two Poodles Living in Spain' or 'Campoverde Canine Club' on Youtube.com.