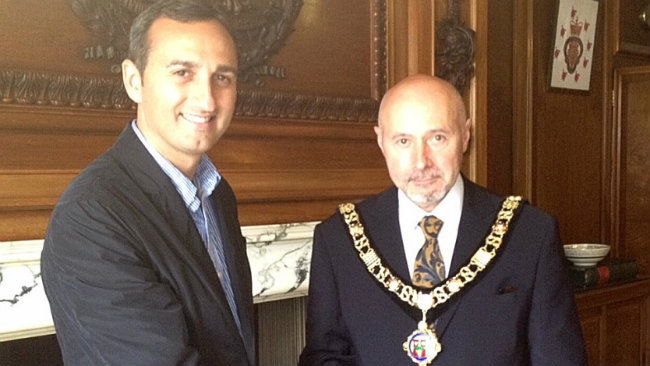 During his recent visit to the UK, the adventurous Mayor of Calpe Cesa Sanchez, met up with Leon Unczur, holder of one of the most the historic and much vilified titles in England; 'His honour the Sherriff of Nottingham'. No evil sheriff men or strange archers in green tights hanging out of nearby Sherwood trees, just the two dignitaries having a casual slurp or two over an impromptu discussion about the possibly of boosting tourism between the two popular destinations.
During their chat, the Calpe Mayor pointed out that apart from Brits representing the largest expat group in his community involving some 9,500 expats; Calpe also receives around 700 UK enquiries a month requesting information on everything from museums to cuisine and culture to Blue Flag beaches. Sheriff Unczur was also told how closely British associations in Spain such as Lions, Help and AFPO work with the Spanish charities including Caritas and Red Cross. After the meeting, Mayor Sanchez said he was very happy with the discussions and hoped that two-way tourism would benefit as a result.
Although the title, 'Sherriff of Nottingham' has colourful connotations, Councillor Leon Unczur is no stranger to laying claim to unusual backgrounds. The youngest of 10 children, Leon is of Mongolian, Lithuanian and English origins and has travelled the world, working in most countries including a period in Berlin when the infamous 'Wall' came down. His has also cycled throughout Europe and America, taking in parts of Canada and Mexico and the West Coast of Australia during his time on the road. He lives with his partner Jonathan, a former Cambridge graduate, local government officer and professional fundraiser, who eight years ago suddenly decided to change his lifestyle and become a professional comedian. Councillor Unczur will share his year in office with his friend, mother of two Adela, in the position of Lady Mayoress.
---
By Benny Davis