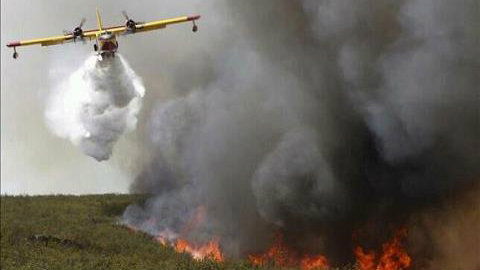 TWO or more fires broke out near Bedar village, prompting officials to evacuate the area. Around 2,000 fire-fighters, volunteers and a military emergency response team fought the flames for more than 24 hours, from when the fire started Saturday morning until Sunday afternoon.
Spectrum FM kept expats up-to-date with a live show, during which it was revealed by the Environment Ministry that the fires were believed to have been caused intentionally.
---
HUNDREDS of people were evacuated from their homes in Bedar village following a devastating fire that broke out Saturday morning on a pine tree covered hillside.
Fire-fighters with the assistance of a military emergency response team were still working on extinguishing the blaze Sunday with residents only allowed back to their homes that afternoon.
Richard Shanley of Spectrum FM was enjoying a DRINK in Vera at around 1.30pm when his Blackberry started to "go ballistic" with phone calls and Facebook messages about the fire.
Shortly after 3pm he presented a live show to keep the area updated on the situation with many people calling in.
It seems the fire started just above El Pinar, travelled up the valley towards Serena, over the top of the mountain towards Campico which was evacuated.
Around 3.30pm Shanley was alerted to another fire in Vera/Antas.
His heart "sank" as he reported that two or more fires like this could mean arson, and was the "first media to report this breaking news".
"An unfortunate accident to start a fire is one thing but for them to have been started deliberately is infinitely worse. The arson theory was borne out by a press statement at 8.30pm by provincial deputy for the Ministry of the Environment Jose Manual Ortiz".
Shanley's wife Jessica was manning the studio phones during the special broadcast.
"The messages of support and help were truly humbling. Offers of accommodation for people evacuated were coming in thick and fast. It is amazing how communities come together in times of adversity."
Bedar village was evacuated Saturday night and Los Gallardos Sports Centre opened as an emergency shelter.
British expat Margaret Haines and her husband were among the expatriates evacuated.
"Police came to our door telling us to 'get out now'," said Mrs Haines.
"I quickly put my cats in the car, grabbed a flight bag I had packed earlier and we drove off," said Mrs Haines.
Instead of going to the shelter, they stayed in a nearby car park watching the fire-fighters "bravely working all night. I cannot praise their efforts enough. At one point two large villas were in danger of being engulfed by the flames. They really fought hard to save them".
When they returned home 3pm Sunday their home was unaffected, although others in the village were not as lucky.
There were various stories of pets lost in the fire, being reunited with their companions.
A Spanish hunting dog, Tillie, belonging to Tony and Julie Justice who had been out shopping in Albox and were unable to get back to the property had escaped when a friend tried to put her in a car.
"We were so worried about her, but Tillie was waiting for us in the garden the next day," said Mrs Justice.
 "A friend of ours has a German Sheppard who ran the 6km from the village to Las Gallardos, but luckily was found."
---
Article by Nicole Hallett