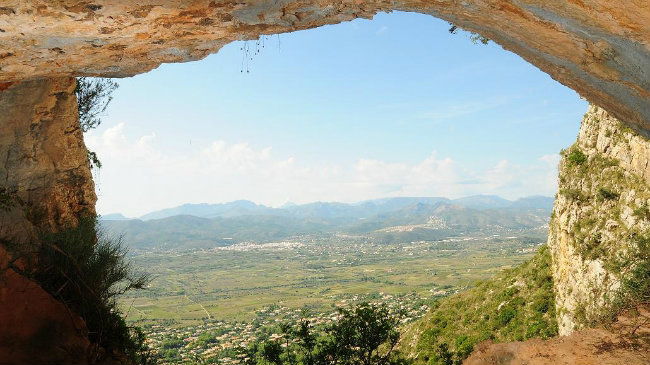 THANKS to a grant from the Ministry of Culture, the visual story behind the discovery and
excavation of a 4,683 year old burial cave, discovered over 375 metres above sea level on Montgo Mountain, is now open to the public at the Javea Museum of Archaeology in Plaza de los Hermanos Segarra.
Described as, 'an archaeological goldmine,' this off-cave event will consist of 12 display panels reproducing the characteristics of the cave interior, including discovered remains and the process of excavation and subsequent cataloguing. Illuminated showcases featuring many of the findings and reproductions of the schematic style paintings will form the basis of the display. In addition, Daniel Tejerina of the University of Valencia has produced a visual to simulate a virtual tour of the cave, just like a video game and the organisers have simulated a cave interior around the exhibit, to create as much of the original atmosphere as possible.
The actual cave known as, 'Migdia barranc of Montgo' is completely inaccessible to the public and according to local archaeologist Ximo Bolufer is, "a Necropolis singular and unique with preserved burial contents carbon dated back to the Chalcolithic (Bronze Age) period."
Javea Mayor Jose Chulvi, expressed his appreciation of the work performed by 'Cirn' and said that the project is an excellent example of coordination between authorities including the Ministry of Culture who made the whole thing possible by awarding the project a 69,504 euro grant.
Meanwhile, the final chapter of the 'mysterious Migda Cova burial chamber' has yet to be written. Further DNA studies are being conducted at the German University of Mainze, to delve into the private details of the burials and hopefully discover whether this was an average family vault, or something as suspected, built for a more important person of the time, such as a tribal leader.The exhibition will remain open until December 31.
---
Article by Benny Davis