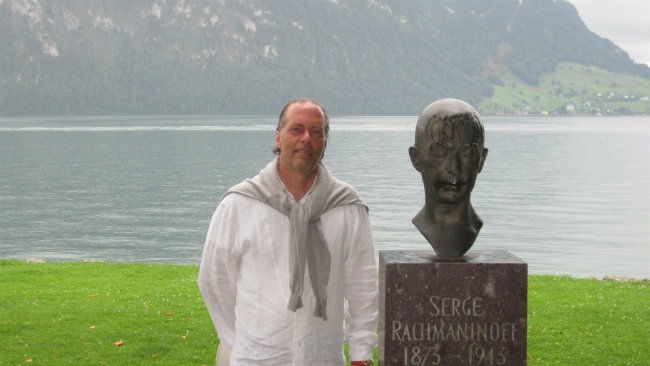 Conert pianist and professor Vincent Russo has performed all over the world, recorded nine CDs and spends his time between Spain, Italy and Switzerland. Nicole Hallett reports.
---
Vital Statistics
Age: 54
Born: New York
Status: Single.
In Spain: 16 yrs.
Spanish base: Port Andratx, Mallorca.
Speaks: English, Italian, Spanish, Catalan, French and Russian.
Best thing about Spain: Warm cheerfull attitude.
Worst: Not so punctual 
Love: Harmonious
Dislike: Hypocrisy
Hobbies: Researcher in Greek/theatre history, XVII century Flemish and Dutch art history, Psychoanalysis.
Favourite drink: A good Brunello di Montalcino wine
Always in fridge: Mostly empty
Most annoying habit: Cigar smell
Favourite song: No preference.
Favourite holiday destination: Tahaa, Polinesian Islands
---
Were your parents musical?
Not really, though they always appreciated music and art. My grand-father was a flutist at Naples Opera House, Italy.
Did you always want to be a pianist?
Since a child, I have been moved by the magic sound of a piano and have never let it go away, without losing interest in other disciplines. I started playing when 11 and gave my first concert aged 13.
Studied in?
Italy, France and Russia
Earliest musical experience?
Performing in Gusmann Hall, Miami playing Saint-saens and Grieg.
Where in the world have you performed?
USA, Canada, South America, Russia, Japan and in several European countries. I have performed in Mallorca (1986), for the national Spanish radio and television (1997-98) and Valencia (2000). 
Achievements?
International 'merit' mentions from various European countries and nominated Honorary citizen of Osaka (Japan). Founding promoter of Greek theatre events and music film festivals in Europe.
Career highlight ?
Performing in the Leningrad Philarmonic Hall in St Petersburg (Russia), the mythical Carnagie Hall in New York and with major orchestras and noted conductors in the USA, Canada and Japan.
Biggest influence to your career?
Friends, master musicians including Aschenazy and Weissemberg, my teacher Lev Naumov, movie directors and actors including Michelangelo Antonioni and Michael Douglas, plus Egyptologist Harold Greenberg and philosopher Dieter Liedtke.
Future?
Four live CD recordings direct with Rachmaninoff as well as Schumann, Brahms and Scriabin and a double CD with Chopin works. They will be released gradually during 2013 and 2014. Also, potential 2013 concerts in Mallorca and Valencia.
Do you enjoy practicing or find it a chore?
Practicing is not the word I would use. It is more for athletes that repeat over and over and it would turn out only into a mechanical boring procedure. I would say 'research' beyond the written notes. There is an infinity of magical ingredients that the score itself does not reveal. Every day when I am in front of the instrument, it is a new journey of deep and strong sensation. That is why music is necessary and essential.
How do you deal with pre-concert nerves?
As I am a Osho Sanyasin Disciple, I meditate. I do not let nerves dominate me. Emotions yes, because when you walk out on stage it must be a joy.
Who has been the biggest influence on your career?
Besides the encouragement and support of dear friends, the friendship of famous master musicians like Aschenazy and Weissemberg, my teacher Lev Naumov, as well movie directors and actors like Michelangelo Antonioni and Michael Douglas for their human and honest personalities. Also great minds like Egyptologist Harold Greenberg, the philosopher Dieter Liedtke.
If you could play a different instrument what would it be?
All instruments have their beauty, especially if you listen to the organic of an orchestra, but probably the cello.
Music most enjoy playing?
If I feel melancolic, then I may perform some works of Schubert or some late piano solo works of Brahms like his Klavierstucke op.118 or some of Rachmaninoff etude-tableaux. If I feel euphorical then maybe some of Liszt's Hungarian rhapsodies. 
Favourite piece of music?
This is the most difficult question you could ask me. It is a matter of moments and feelings, but if forced to choose then Rachmaninoff Piano Concerto N.3 op.30 in D minor.
First record bought with your own money?
Pink Floyd's 'Dark side of the moon' in the early 70s. I find this album still today a master work. I do not listen to pop, country or other music often, but I doo appreciate some good jazz.
Last CD you bought?
The re-edition of Glenn Gould Bach Goldberg Variations, a monument of Musicianship.
Music listened to in the car?
If I listened to music in the car I would not be able to drive as I would be hypnotised.
If you were not a musician, what would you be?
It would be hard to imagine myself not to be a Musician as then I would live without joy, but if I could not be a musician then I would try to make this world a better place to live for others who cannot.