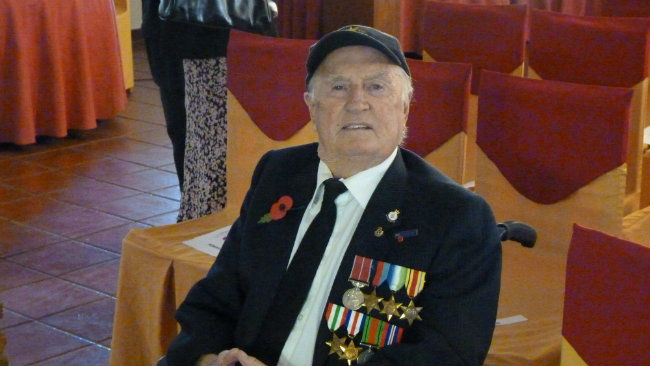 MEMBERS of the Coin Branch of the Royal British Legion and a bigcongregation of friends sang a sad farewell in the Coin Cemetery Chapel on Friday to their Honorary Vice President Sydney Knowles, who passed away peacefully at home on July 31.
Sydney was born in Preston, Lancashire and volunteered to join the Royal Navy in 1939, aged 18.  He served in the North Atlantic aboard HMS Zulu during the hunt for the Bismarck and on HMS Lookout on transatlantic convoy duty and later on 'Operation Pedestal', the famous Mediterranean convoy that broke the Siege of Malta in 1942.
Later in 1942 Sydney volunteered to join a small squad of Navy divers led by Lt Cdr Lionel 'Buster' Crabb.  They were known as the 'Underwater Working Party' and their task was to protect Allied shipping at anchor in Gibraltar harbour against attack by Italian underwater saboteurs. Equipped with nothing but swimming trunks and primitive underwater breathing apparatus they worked in all weathers to search for mines beneath the hulls of ships at anchor.
Buster's expertise at rendering mines safe earned him a considerable reputation and Sydney accompanied him on many clandestine tasks as his diving partner both during and after the war.
In 1958 Sydney was played by Michael Craig in the fictionalised film, The Silent Enemy, and on he published his book, A Diver in the Dark, in October 2009, which detailed several hair-raising stories about his exploits with Crabb.
Sydney loved his retirement in Spain and was an active and supportive member of the Royal British Legion, even as his health began to fail.  The Legion has lost a great man who served his country proudly and was regarded by those who knew him a true comrade and a friend.  The thoughts and prayers of every member of the Coin Branch and his friends are now with his beloved widow Frances Knowles.
---
Article by Charles Edwards