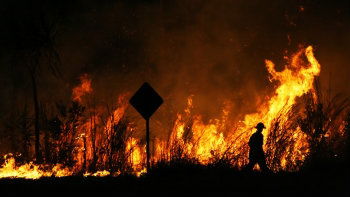 WITH ongoing fires in various parts of Spain making it the worst summer fires for a decade, statistics now released make grim reading.
For the facts show:
* A records number of arrests
* Guardia Civil's environment protection unit was called to 2,007 fires from January, a 57 per cent increase on 2011.
* 284 fires were started deliberately
* 457 were the result of carelessness
* 185 were accidental
* 94 were due to natural causes
Guardia Civilś environmental protection unit Seprona said other cases continue to be reviewed.
The record number of arrests made – 83 in total – plus 223 people charged since January in connection with fires, is a 110 per cent increase on last year's total. 
Meanwhile cleaning up operations continued this week in the Canaries, where last week more than 4,000 people were evacuated from raging wildfires.
Last week also so a firefighter and a forest ranger burned to death while fighting a fire in the Torremanzanas area and the previous week a huge blaze raged in Valencia province.