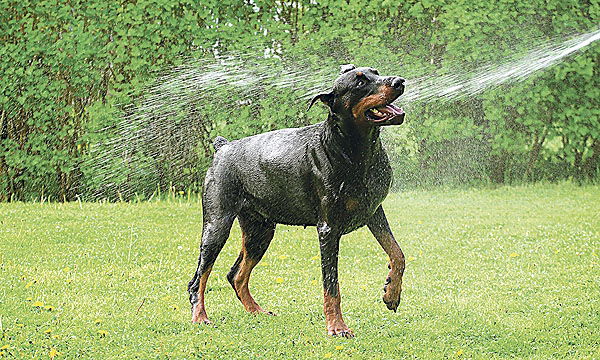 IF there are signs of heat stroke, cool the dog off by submerging it in tepid water before taking it to a vet. Flap a towel to fan the dog and allow gradual cooling.
Cooling a dog that is in shock too fast with cold water can cause further problems, even hypothermia. Certainly do not use icy water, as this could result in a narrowing of the arteries to the skin, meaning the dog will retain the heat longer.
Do not leave dogs in cars even with the windows down (and do not allow them to travel with their heads out of the car windows).  If you see a dog in an unattended car in hot weather for more than five minutes call the police. Keep water in the boot of the car and out of the sun, dogs do not like warm or hot water.
Hot pavements, tarmac and sand on a beach can burn paws. Jogging with your dog running behind is also unwise as is making your dog run behind a car.
Remember young or small dogs take 10 steps to our one and young dogs need most of their energy for growing.
Don't clip long-haired dogs too short otherwise there is the danger of the skin being sun burnt, their coats are for protection against cold weather and the sun.
It is not natural for dogs that have been bred for cold climates, such as Huskies and Akitas, to be taken to warm climates as then behavioural and health problems will occur.