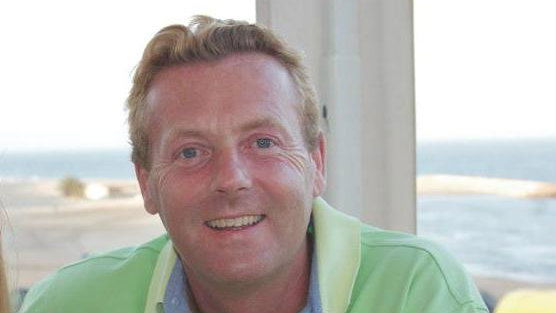 Spanish radio station owner Richard Shanley scooped an Olympic first when a GB gold medallist agreed to give his first interview outside the UK. Nicole Hallett reports.
---
Age: 48
Lives: Vera Playa, Almeria
In Spain: 12 years
Originally from: Stratford Upon Avon
Status: Married with two daughters age 13 and 15.
Hobbies: Skiing (water and snow) and golf.
Love:  My wife Jessica, most of the time
Dislike: My wife Jessica, some of the time
Most like about Spain: Lifestyle, weather and laid back approach.
Least like: The manana attitude. Even after 12 years I can't get used to not getting things done instantly.
---
Why did you come to Spain?     
For the easy life, which it was until three-and-a-half-years ago when I bought a radio station on impulse.
Highlight of your career?   
Interviewing Olympic Gold Medalist Nick Skelton only four days after he won the Team GB Showjumping medal at London 2012. It was his first interview outside the UK and I believe the first interview by any Team GB medalist in Spain during The 2012 Olympic games. A real scoop for Spectrum FM. You can listen to the interview as a podcast at http://costaalmeria.spectrumfm.net/
Other jobs?  
Owned a Printing Business, Classic car Showroom and Satellite TV company.
Aged 10, what did you want to be?   
A lollipop man because they didn't start work until age 65.
Most exciting experience?   
Competing in the 1986 Beuajolais Neaveau run that is held in late November. Our car from Byrons Wine Bar in Solihull, West Midlands came fourth in the race back to the ferry at Calais with over 500 cars from the UK taking part. When we were released from the vineyard by Beaune (south of Lyon) at midnight with our case of poor wine we arrived at Calais 4 hours 22 minutes later having covered in excess of 700 kms. I think the police in France always turn a blind eye on this night as they are happy to be getting rid of rubbish wine.
What would be your theme song?   
DReam 'Things can only get better'. As a cup half full type of person this is what I think all the time since the recession in Spain began.
Who would you invite to dinner?  
Ayron Senna (Sporting Hero) and Margaret Thatcher (Political Hero) 
Who has inspired you the most?   
My late father who was without a shadow of doubt the best ideas man I have ever known and not a day goes by when I don't wish he was still here for advice