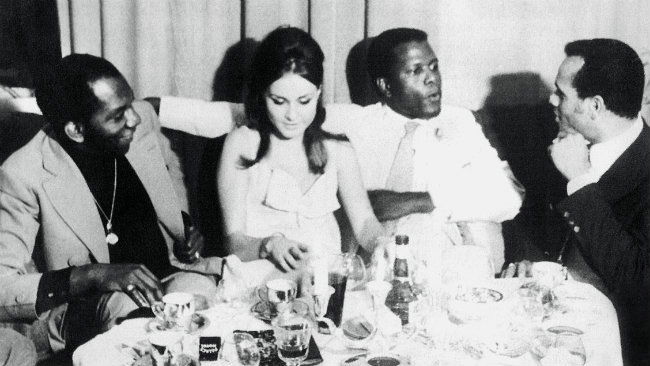 From Trinidad to London, Mallorca and Sweden to Barbados, Noel Charles has lived the high life, met celebrities, royalty and had a brush with the underworld. Nicole Hallett reports.
AT 72 years of age, Noel Charles has looked back down the years and written a memoir entitled 'In My House'.
His tale takes us from the Caribbean to various European countries where he lived the highlife for a decade, dining with some of the world's greatest entertainers. These include Rolling Stones, David Bowie, Elton John, George Harrison, Tom Jones, David Bailey, Sidney Potier, and Jack Nicholson.
He was able to meet these stars through his work in nightclubs. It all started when he became social secretary for the student union at the London School of Economics, which he started in 58, but never finished.
"Because of that I put on school proms and got a flair for the night," said Charles. "I went to this club called The Cromwellian. It was beautiful, but empty. The owner got heard that I had said 'the person who runs this must be an idiot' and called me in, eventually hiring me to run the club. Within three months of handing out VIP membership cards to well-dressed people or good dancers I met at other clubs, they were queuing up outside The Cromwellian."
Two years after taking over the management of the club, Charles got a call from the Kray twins, the leaders of organised crime at the time, to pay them protection money. "They thought I owned the club. Things got nasty when the owners refused to pay up. They sent six people down, but Tony Mitchell – the club owner – got his wrestling friends to come down and there was a fight. After that I wanted out, so went to Mallorca."
It was here he met his first wife, a Swedish girl, and followed her to Stockholm in 67. "In those days Stockholm did not have a discotheque, so I decided to open one, calling it Alexandra."
Not only was it Charles's first nightclub, but the first in Sweden. "It became the number one place in the whole of Scandinavia and all the Royals came to the club," said Charles, "including Carl Gustavo – who is now King of Sweden – and his sisters."
His nightclub ventures expanded following a meeting with a trade commission from Barbados who was visiting Prime Minister Erol Barrow. "He said they needed something like this to kick-start their tourism industry," said Charles. "So he invited me down as a guest of the government in 69 and I opened a nightclub in Barbados, also called Alexandra's in 72, which was successful."
After his marriage went "sour" in Barbados, he moved to Mustique and then Toronto, where he met his second wife, with whom he has a daughter. He moved to New York for a bit before heading back to Stockholm, then London to open an Alexandra's club and then back to Barbados to manage a club called Baku.
His second marriage did not last either, but it was third time lucky when he met Cynthia Lennon – John Lennon's ex-wife – who was introduced by her son Julien. Charles had met Julien in London at a club called Tramps and invited him to Barbados to get away from it all, which he did, for four months.
While there are interesting stories of his experiences with celebrities he has met, this is not a 'kiss and tell' story; it is the story of Noel Charles's life, its highs and lows and his journey of self discovery that took a lifetime.
http://www.noelcharles.info/