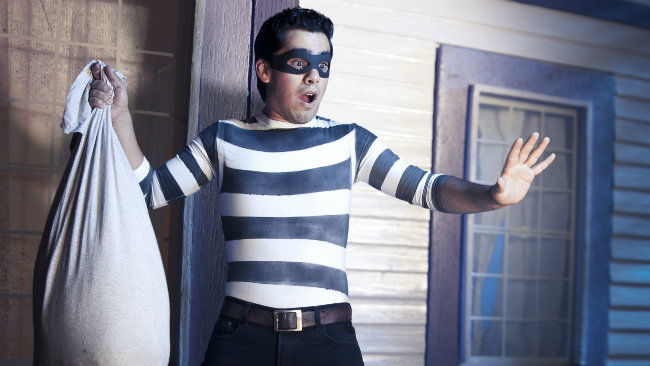 ARE you sleeping soundly at night? Or are you, like me, listening out for the pitter patter of large feet approaching your house at the dead of night? Crime, apparently, is soaring and burglars are no longer waiting for you to visit Aunt Ethel to do their dirty work.
Gone are the days when the main-stay of trouble centered on some youth making off with your knickers while skinny-dipping after too many sangrias; crime today is ruthless and unrelenting. And I am not thinking of crime à la Sexy Beast, the 2000 film with Ray Winstone, nor the white-collar version that robs your pension fund rather than your house.
House break-ins in Mallorca rose a whopping 60 per cent in the first six months this year compared to the same period in 2011. One friend, and her young family, was woken before the crack of dawn by noises of burglars attempting to smash their way through her front door paying scant regard to neighbours, a silent entry or the fact that the family car was parked in the driveway.
Fortunately, the big bad wolf huffed and puffed but failed to tear the house down and police arrived on the scene – albeit too late to cage the animals. They did not offer any hope of catching the criminals, who, unabated, will move on to easier, less fortified targets.
Now I am all for the James Bond school of burglar prevention (strategically placed land mines and explosives) but apparently this is not encouraged by crime prevention forces, and, besides, there is a good chance of an 'own goal' on the odd occasion when I forget my keys and have to climb over the wall.
So, I have done a little research into the best deterrents. Two-thirds of burglars enter through doors and a third through windows, so securing these is your number one mission. A thorny bush around the perimeter of your house is also a good idea – or a wall that is difficult to climb (but hold the shards of glass on top or you could end up behind bars yourself).
Dogs are a major deterrent, though a slice of poisoned meat will sadly see the end of Fido, so it may be better keeping him indoors as a warning barker. Automatic low-energy dusk-til-dawn lighting is also useful and cheaper and less prone to false alarms than the motion-sensitive beams.
Feigning madness is also a winning strategy – few robbers would have a go at the house of a potentially axe-wielding vigilante, so a few strategically placed 'I love guns' signs or a Zona Militar plaque could be advisable, though a 'Forget the dog, mind the owner' is too predictable.
Spray-paint motion sensor sprinklers could work; but mainly to change the colour of your garden and Fido. Other than that, you need only watch a re-run of Home Alone for some more inventive burglary prevention.
If none of these options appeal or you still fail to sleep at night, move to the Republic of San Marino, where crime is so low that there is only one inmate in the state prison, or Japan, where the crime conviction rate is 99.8 per cent – a sure deterrent for any would-be robber.