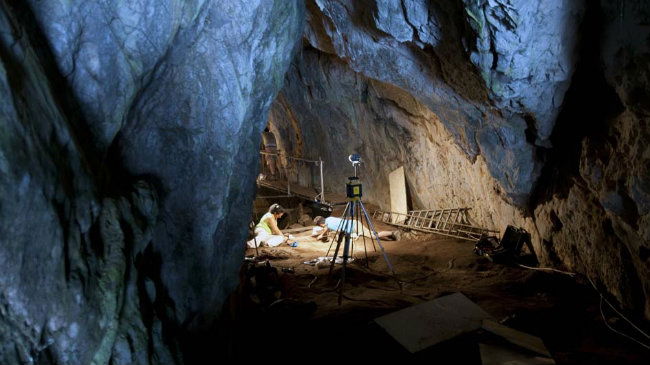 EXCAVATION work is well underway in the Gorham's Cave in Gibraltar.
A team of 35 scientists, students and volunteers from Gibraltar, the UK, Spain, Ireland and Italy are taking part in a major excavation project by the Gibraltar Museum. They are digging Neanderthal sites from around 40,000 to 30,000 years ago. They are also excavating a Phoenician level from the eighth to third Centuries BC. They hope to find as much evidence of Neanderthals and their lifestyle, according to Professor Clive Finlayson, Director of the Gibraltar Museum and Heritage Division.
"We wish to better understand the Neanderthals and their way of life," said Finlayson. "This is the last place where they survived in the planet, so any evidence that points out why this place was so special."
So far they have found "more evidence (stone tools) of Neanderthal occupation as well as remains of many animals, especially birds, reptiles and amphibians," said Finlayson. "There will give good climatic information."
From the Phoenician level they have found "lots of ceramics left as offerings to the gods". Excavations will continue until next Sunday after which they will move to Vanguard Cave next door until September 9. 
The items from this year will be studied and results published. They may be exhibited in the museum later on. Items from previous years are now exhibited at the Gibraltar Museum.
---
Article by Nicole Hallett