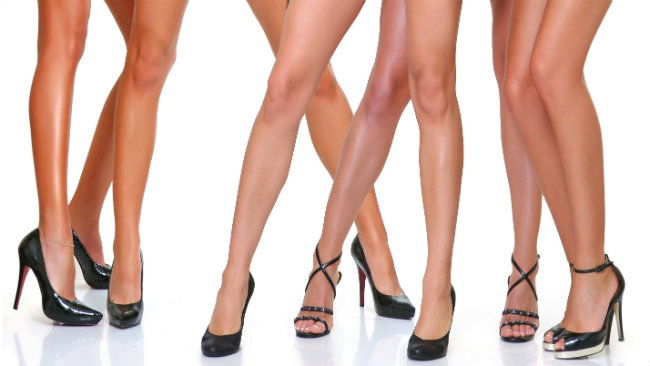 BRITISH and Spanish women wear the highest heels in Europe. This could be due to British and Spanish women being some of the shortest on the continent.
The average height that Brits are tottering around on is 3.3-inches, while a quarter brave stilettos of between four and six inches high, a study by foot care brand Compeed found in a poll of 3,792 women. Hot on the heels of the Brits are the women of Spain whose average heel height is 3.2-inch. That is nearly an inch more than the petite women of France who favour a heel of 2.4-inches and wear the fifth highest heel in Europe.
However, French women at 162.5cm (5ft 4ins) are slightly shorter than British women's 163cm. Spanish women are one centimeter taller.
German and Danish women on the other hand tower over all three. Danish women are the tallest with an average eight of 168.7cm (5ft 6½ ins), while Germans are 168cm (5ft 6ins) and wear a 3-inch and 2.7-inch heel respectively.  by 5.5cm and 5cm respectively and wear an average 2.7-inch heel.
This inclination towards wearing sky high shoes could be because "a tall woman is considered more assertive, confident, richer, capable, successful, independent and even more intelligent than those who are shorter," according to psychologist Emma Kenny.
"Perception is incredibly powerful and it makes sense that the feedback we receive from the way we are treated by others will reinforce our choices."