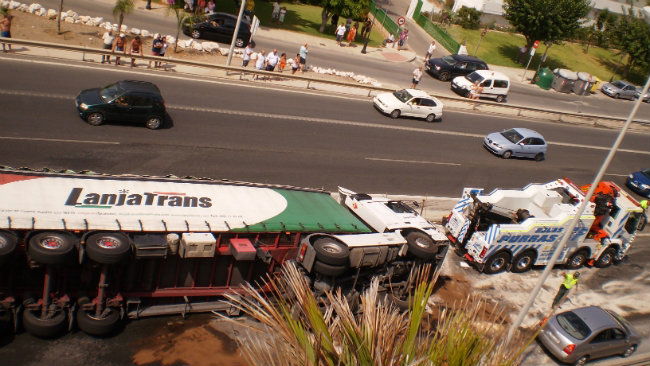 TRAFFIC tailbacks lasting for more than six hours and at their height stretching almost 12 kilometers formed when a 10-wheeler juggernaut overturned at an accident black spot on the A-7/N-340 at La Cala de Mijas. No one was seriously injured in Tuesday's crash which blocked part of the dual carriageway in the direction of Marbella.
Holidaymakers enjoyed ringside seats. Some clad only in bikinis, and others in deckchairs on nearside grass verges, joined other onlookers as Guardia Civil, police and helpers – with a police helicopter hovering above – toiled directing traffic heading towards Marbella around the lorry as lifting equipment was brought in to assist the recovery operation.
Tailbacks of up to 12 kilometers built up at the height of the delays as police and towing vehicles took up strategic positions to assist in the five-hour recovery. 
Christian Galbraith, a nearby resident said: "This is the first major accident at this accident black spot this year. Some drivers just go too fast into the sharp bend despite flashing lights and warning signs. "The most remembered incident was about three years ago when a lorry carrying tomatoes overturned, spilling its load. Then local residents – some even with wheelbarrows – suddenly appeared to pick up the tomatoes for themselves. "But this lorry was just carrying water in containers."