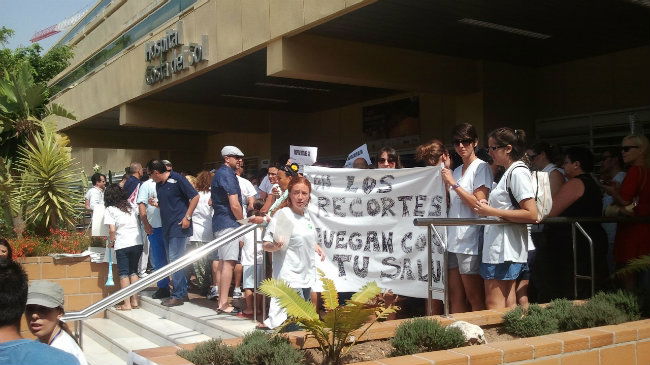 THE next partial strike by the Costa del Sol public health agency's three hospitals will take place Tuesday between 10am and 2pm.
Previously the strikes were held at the health centres, but this time they will be in front of the Socialist Party's headquarters in Malaga where employees from the three hospitals will gather between 11am and 12pm. The participating hospitals are Marbella's Costa del Sol Hospital (HCS), Mijas's CARE and Benalmadena's HAR centre. The strike is being held to protest health cuts by the Andalucian Regional Government.
This strike will be similar to those which took place on Friday July 13 and Friday 20 prior to last week's 'indefinite' strike which was called off after two days. During the three hours of the strike, which will be held once a week, "the minimum services will be as it is when it is a holiday," said Juan Jose Sanchez, president of the HCS committee.
The strike was held to protest against temporary workers – which make up 40 per cent of the 1,800 staff – having their hours and salary reduced by 10 per cent as well as the conditions of an increase to permanent staff working hours. Previously permanent employees worked 35 hours a week, which has been increased to 37.5 hours. "We must work the extra 2.5 hours all in one day, which can be tiring," said Juan Jose Sanchez, president of the HCS committee. "Our proposal is to spread the extra hours over the course of the week so each day employees work just half-an-hour more."
---
Article by Nicole Hallett