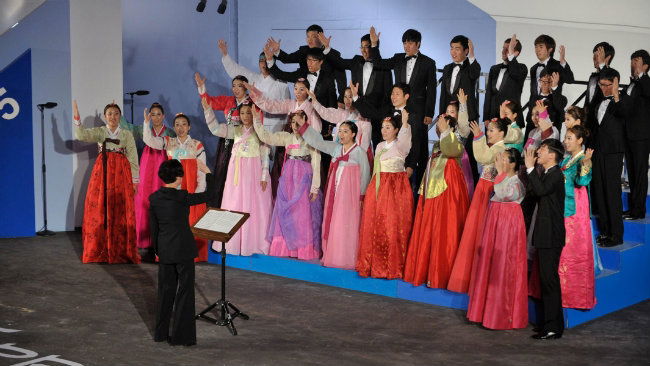 THE 58th International Contest of Habanera and Polyphony of Torrevieja came to a close on Sunday.
This celebration is a tribute to the sailors of Torrevieja, who travelled to trade with Cuba, bringing these melodies back with them.
The festival features the best choral groups in the genre from all over the world.
More than 800 singers performed over the course of the competition to packed houses at Torrevieja's Eras de la Sal.
The Yonsei University Choir from South Korea was proclaimed winner and awarded the first prize of €12,000.
They also won the Audience Award, which adds another €2,000 to their fruitful week plus two other awards, a total of four of the 11 awards given in the competition.
In the form of Habana, the second prize of €5,000 went to the Choir of the Universidad Industrial de Santander, Bucaramanga (Colombia).
The third, of €2,500, also went east to Coro Wenquin de la Universidad de Zhejiang from China.
In polyphony, the first prize of €10,000 went to the Svetozar Markovic of Novi-Sad (Serbia).
The second prize, worth €4,000 went to Coro Swedbank de Riga (Latvia) and the third, of €2,000, went to the Cantare de Klaipéda (Lithuania).
On the national scene, the award 'City of Torrevieja', worth €5,000 and a trophy, was given to the choir Coro de la Universidad Carlos III de Madrid.
The award of the gold shield was awarded to Torrevieja musician and choral director Aurelio Martinez Lopez.
This is the highest annual award granted by the Board of Habaneras.
Martinez, who is also a member of the technical committee of the show, is one of the youngest people to receive this award.
The Gala was recorded in full by Spanish Television, with which developed a special program to be broadcast on La 2 of TVE and its international channel, which can be seen on August 19, 2012.
Councillor for Culture, Tourism and Sports of the Valencia Regional Government, Lola Johnson publicly endorsed the competition and pledged the support of the Generalitat Valenciana for future editions.
Next year's contest will be held from July 22 to 28, Torrevieja's mayor and president of the Patronato de Habaneras, Eduardo Dolon Sanchez announced at the closing ceremony.
---
Article by Keith Nicol