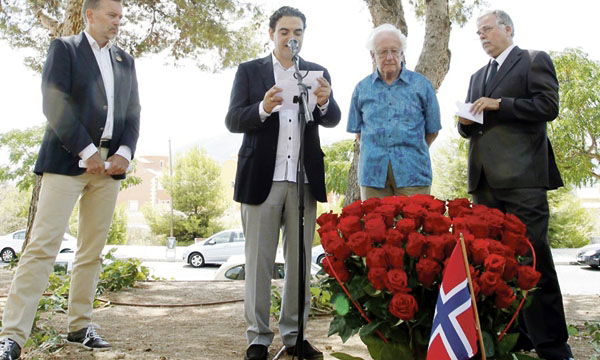 MEMBERS of the Alfaz del Pi community, mostly Norwegians, gathered in La Heretaeta Park to  remember the 77 victims killed one year ago in Oslo and Utoya.
The Norwegian Prime Minister Jens Stoltenberg spoke at a memorial ceremony in Oslo and encouraged citizens to remember the victims. He was joined by King Harald V, Queen Sonia, the victims' families and many more who wanted to show their support.
Meanwhile, the Costa Blanca community united more than 50 people in a a more intimate ceremony to remember the dead. Amidst the 77 roses which represented each life lost, Mayor of Alfaz, Vicente Arques read a declaration in which the community rejected the atrocious acts of terrorism that occurred in Norway on July 22 2011. 
Benidorm's Norwegian Consul Jan Arild Nilsen then read the text in his native language. Mayor Arques said that his city, which has the most Norwegian citizens in Spain, will be displaying a sculpture by artist Agustin Ibarrola.
The piece is entitled 'Paraboloide Sculpture' and will be installed in front of the future headquarters of the Costa Blanca Norwegian Club in homage to the victims.