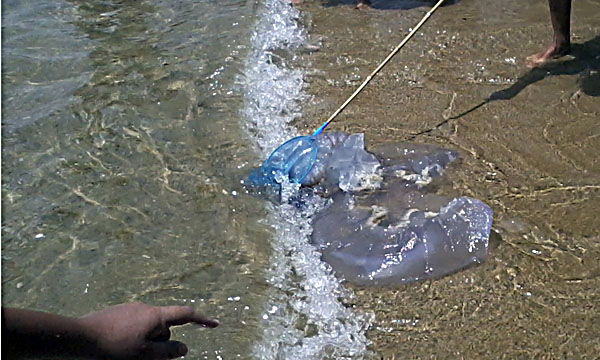 A JELLYFISH weighing more than 15 kilos was fished out of the sea in Garrucha.  Crowds came running to see the massive creature that was thought to be a species originating in Portugal.  A man came across the jellyfish last Thursday while swimming and managed to guide it to the shore using a child's fishing net.  When the man moved it up onto the beach with the help of lifeguards, it split into three large pieces and several smaller ones.  Using a shovel, they disposed of it in a wheelie bin. 
A lifeguard said that it wasn't the first time a huge jellyfish had been found in Garrucha but that it wasn't very common.  He said that it was a dangerous creature that had to be disposed of.  However, he said that as it was so big it was easily spotted and nobody was stung.  Onlookers praised the man and the lifeguard for their quick response.  The week before there had been a tide of small jellyfish and children's swimming classes had been cancelled for a day. 
As well as coloured flags indicating how rough the sea is, lifeguards also sometimes fly white jellyfish flags to warn swimmers.  Another lifeguard said that smaller jellyfishes were more dangerous than giant ones.  He said small ones can be difficult to see and therefore swimmers are more likely to bump into them.  "I don't feel like swimming anymore today," said one Garrucha woman.  "Poor thing," said one child.  "Too bad we can't cook it up," joked a group of friends.