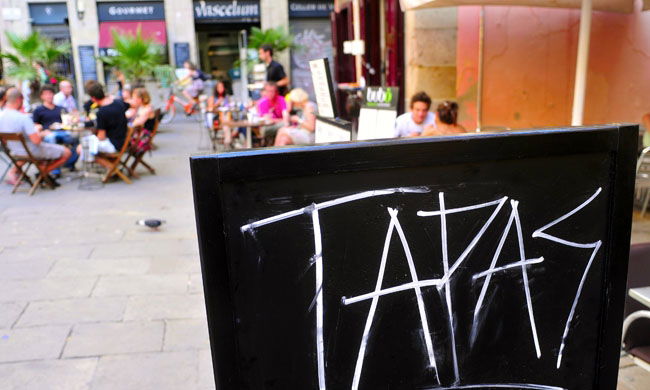 By Robert Bovington
There are a number of schools of thought as to how the excellent Spanish custom of having a tapa with a drink came about. A popular theory is that the practice started in Sevilla. Something was needed to prevent flies, especially the minute fruit flies, from getting into peoples' drinks. The solution was to put a piece of bread on top of the glass, to keep out the flies between sips. The idea of balancing an extra morsel of food on top of the bread was then thought of and tapas were born. The word tapa actually means lid or cover in Spanish. Another theory is that small morsels of food were served with a glass of wine to travellers who had stopped briefly at a country inn but who were too rushed to get down from their horse. I prefer the first version – the latter doesn't ring true. I mean, come on, Spaniards too busy to stop for a meal! No way – especially if it is true that the practice started in Andalucia!
Even if the idea of serving a tapa with a drink did actually originate in Andalucía, it is now a national institution. I think it is a delightful custom – a couple of drinks and a few tapas is a splendid way of socialising with pleasant company!
Some people say that having a tapa with your drink is not a right. However, it is usually given, although it does depend on the time of day. I have never really been sure whether one should ask or not. Some would say it is bad form. Yet, on a couple of occasions when I have not requested a tapa with my beer, I did not receive one. This, I admit, has not happened too often and is usually when they think I am an English tourist who does not know any better. Locally, I know the best tapas bars and, at most of them, I ask for the tapa of my choice. In some bars you get what you are given which is not good news for the vegetarian if you get a dish of carne con ajillo – meat in garlic sauce. Even if you ask for habas – broad beans – you are likely to get pieces of cured ham in it. 
So, what are the popular tapas? Lomo – loin of pork – is a popular choice. I like boquerones fritos – fried anchovies that are a bit like whitebait and the popular Spanish sausages – morcilla and chorizo. Other tapas commonly served are:
carne con tomatepork in a rich tomato sauce
pinchoskebabs – normally of spicy pork
calamaresrings of squid – normally fried in batter
jamoncured ham
aceitunasolives 
albondigasmeatballs 
ensaladilla rusaRussian salad – a sort of potato salad
gambasprawns
patatas bravasfried potato cubes in a spicy tomato sauce
puntillitasbattered and fried baby squid. 
quesocheese
tortilla de patatasSpanish omelette
pulpo a la vinagretasmall pieces of octopus in a vinaigrette dressing
caracolessnails
chipironescuttlefish
quesocheese
tortilla de patatasSpanish omelette
pulpo a la vinagretasmall pieces of octopus in a vinaigrette dressing
caracolessnails
chipironescuttlefish