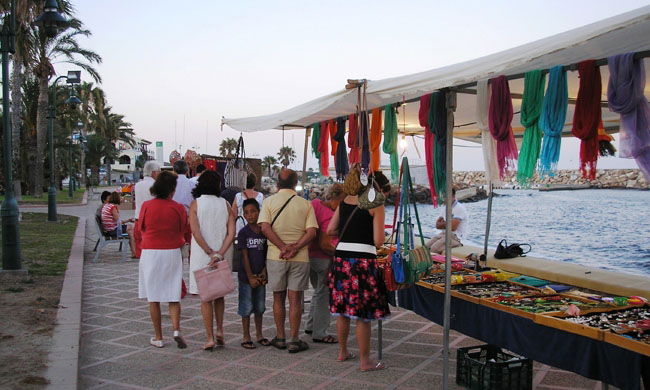 By Susan Leach
THERE is so much more to many Costa Almeria towns than beautiful beaches.  During July and August most events take place at night when temperatures are more bearable.  
The sun is at the highest point in the sky at about 2pm, which is why when Spaniards say midday (mediodia), they mean 2pm, not 12pm. If a Spanish friend suggests meeting in the afternoon, this doesn't mean at 2 or 3pm.  Afternoon in summer, starts somewhere between 5 and 6pm. 
In Mojacar Pueblo there are activities organised for children and the young at heart in the Plaza Nueva on July 12, 13 and 14 at about 9.30pm.  On July 12 there is balloon modelling and face-painting.  Then on July 13 The Lion King Musical is being performed, and on July 14, a magic show.  On Sunday July 15 in the Plaza Fronton there will be orchestra and band music from 10pm onwards.  The following evening, from about 7pm, there will be a maze and a ball pool in the Plaza Nueva, and on July 17, a Jazz-blues band at 10pm in Plaza Fronton.  On July 18 there is a children's puppet show in Plaza Nueva at about 9.30pm.   
Monday July 16 is a local Holiday in Garrucha.  Banks, government buildings and some businesses will be closed in honour of the 'Virgen del Carmen.'  At lunchtime the fisherman's association will serve grilled sardines, paella and fideua (similar to paella but with pasta instead of rice) on the Playa del Posito. Portions will cost €1.  Then at around 7pm some fishing boats will offer rides around the bay, leaving from the fishing port.  It's free to ride, but it gets crowded.  There is a Catholic mass to honour the Virgin at about 8.30pm in the port car-park.
There are open-air craft markets in some Almeria towns.  They usually open around 7pm and go on until after midnight.  One of the biggest in the area is the charity market near the Zimbali Hotel in Vera Playa.  The night market in Villaricos is set right on the seafront and also has some interesting stalls.  The Almenara open-air shopping centre near Lorca has late night shopping and free live music concerts for the whole family every Friday this summer.  On July 13, there is 80s music with Los Vinilos, and on July 20 a Queen tribute by La Reina.  Almeria's international pop singer, David Bisbal, is playing at Plaza Vieja in Almeria City as part of the Almeria summer festival on July 22.  Tickets cost €30 and are on sale at Carrefour and Halcon Viajes travel agents.
Tell other EWN readers about events in your Almeria town.  Send us your information 10 days in advance to: s.leach@euroweekly.com