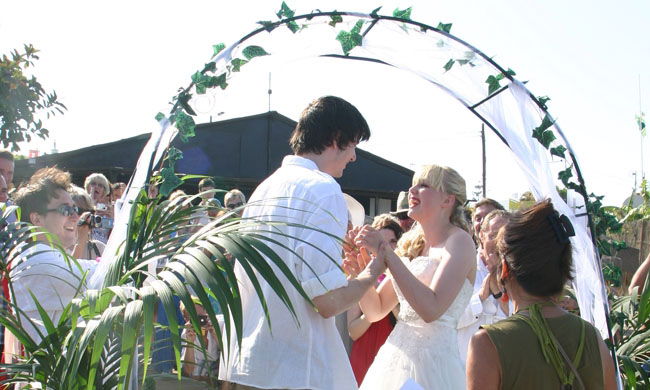 By Ric Polansky
FRIDAY was a wedding on the beach. Any time a bride marries her groom on the beach of Mojacar—it is always GOOD NEWS. And as local tinker-bell celebrity Mo so easily stated "by the magical powers invested in me—you are husband and wife". Plenty of kisses all around, speeches and the wine flowed.
The setting couldn't have been better selected, the comfortable and popular beach bar AKU AKU. Guests were charmed and made to feel "cool and special" in a hot summertime atmosphere. A unique cocktail of Cava sangria flowed while in the background local good guy Steve Bish and his "garage friends" were finally coaxed to the live stage and plucked some really nice acoustic sounds.  Shades of Woodstock wafted while everyone toe tapped along.  Then off to a plentiful reception and buffet catered by "Jo" of Kimrick fame. A few short speeches and one of my favourite entertainers in Mojacar blessed us with a few songs that got the girls swooning and the guys drinking more beer. Robin Ro Bin gets better every time I hear him! The bride was the daughter of Tina (who with Scottish Graham and Mo) masterminded the wonderful afternoon and evening.
SATURDAY night was the much heralded PAWS "Hippy Night". Last year's reports were so exceptional, I made a point of being in the front row and witnessing all the magic this time around. A perfect setting was the large outside bar at Tomas's Rural Hotel in Turre. The staff were all charming, well trained and kept the drinks flowing. Indefatigable promoter, Siobhan Tattan, helped organize the night in aid of PAWS. She magically got hold of some really slick musicians that could have played any important venue. They knew how to work their 60´s fans and the memories of their tunes swept away the years. The music could be cranked up and enjoyed. Within minutes, silver haired people were a shuckin' and a jivin' as if they were 20 years old again. The flower-power and make peace outfits were much to be admired. Every song played by these "Opium Buddhas" brought a chorus of singing and swaying from everyone. "In my white room with dark curtains all around me" roared and everyone else sung back. You didn't want to blink in fear that the fantasy would suddenly vanish. DJ Ian kept up the chatter during intermission with stories and quips that kept a smile on everyone's face. It became a "happening". Probably the first one in 40 years in the area. "Far Out!" was the cry. The best damn knees up I'd witnessed in 357 years of dancing with Meer Cats. Put it on next year's agenda now. It's a good excuse to be Feelin´ Groovy!
PAWS report that €1,693 has been raised and still counting! This will enable them to neuter, spay, vet, flee, worm, feed, and passport more dogs for rehoming.