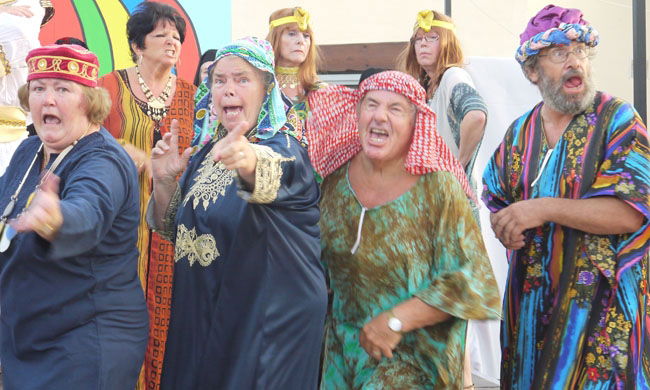 THERE was standing room only for 'The Occasional Performance Society (T.O.P.S.) 'Around the World in 80 Minutes' stage show held in the grounds of Las Robles in Las Lomas, Alhaurin el Grande.  
Both nights were a sell out and the audience got into the spirit of the evening.
After a starter of paella the journey commenced in France – under the bridges of Paris– with a couple of well-known songs in the native tongue, and finished with a Can-Can. Then it was on to Turkey with a belly dance, Africa with a haunting song by Harmony Magic, and then India with a Bollywood dance routine.
After an interval for the main meal of a hog roast with all the trimmings, the journey resumed with a trip to Egypt where the story of Joseph and his Technicolour Dreamcoat was acted out accompanied by songs from the large cast.
The audience were then able to visit the pretty pink and white Ice Cream Bar for their dessert before sitting down for the final journey to China (with an Umbrella Dance), the USA with a selection of songs from 'Ole Blue Eyes' Ken Knowles, Spain with a sevillana dance from Pedro and Ann, and finishing in London with a medley of popular songs which the audience readily joined in with.
The two local charities which are benefitting from this event are the 'Centro de Discapacitados Psiquicos Fahala' which is a centre for the rehabilitation of people with learning disabilities and psychological problems, and the 'Respiro Familiar' which provides one weekends respite per year for the parents of severely handicapped children, when they send the children to a specialist caring environment.  Both charities are situated in Alhaurin el Grande and, as most of the T.O.P.S. members reside in and around this area, they thought it was appropriate to support the town where they chose to live.  A cheque for €500 will be presented to each of the charities.