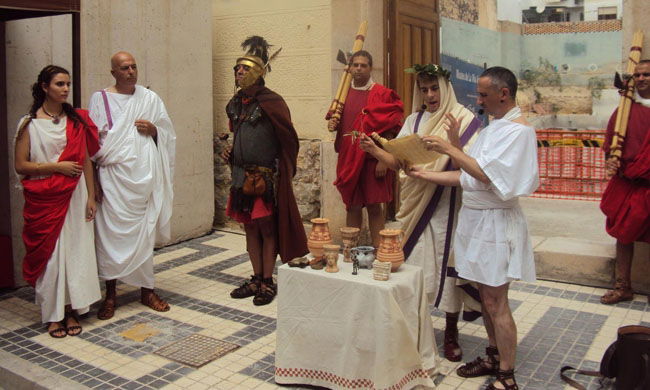 VILLAJOYOSA celebrated the creation of its new museum, known locally as Vilamuseu, by inviting Cultural Councillor, Lola Johnson, to place the building's first stone.
Mayor, Jaime Lloret joined her at the event. According to Lloret, "La Vila is one of nine Roman cities in the Valencia region; its culture left its mark in invaluable monuments and archaeological remains."
The ceremony represented the city's strong bond to its Roman past with participants dressed in traditional Roman garb as well as the practice of ancient rituals with a modern twist.
A jug dating back to 85 to 110 AD was discovered among Roman ruins in La Vila. Inside the relic, archaeologists found the head of a small mammal—a clear indication of Roman ritual performed for the promise of a good future.
During the museum's ceremony, the Councilwoman of Tourism, Culture and Sports deposited a USB drive filled with people's wishes for 'Vilamuseu' into a replica of the jug. During the modernised version of the ritual some of the wishes, submitted by people all over the world, were read.   
The new Vila Museum will be located in the former Dr Esquerdo Primary School on calle Colon, directly in the city centre.